Welcome to Injustice 2! We've provided some pointers below to help with your battles against Brainiac's forces!
Quick Navigation
Game Basics
COMBAT
Standard Attack - Screen tap.

Jump Attack - Swipe up.

Crouch Attack - Swipe down. This can help avoid ranged attacks from opponents.

Dash Attack - Swipe right.

Ranged Attack - Swipe left & screen tap.

Evade – Swipe left. This can help with avoiding ground hazards or some opponent abilities.

Block – Block button (bottom left) or place two fingers on the screen.

Tag-in – Tap a Hero card to tag that specific hero (top left of screen).

Abilities – Tap one of 3 icons on the bottom right corner when they are glowing blue.

Supermove – Tap this yellow icon to initiate a powerful cinematic unblockable ability. Can only be used when icon is glowing, and meter bar is full. The cinematic can be skipped if you're in a rush to finish the battle!
Filling your energy meter bar in game is necessary to take advantage of each heroes' abilities. This is located at the top of the screen under your hero name. The blue notch between some of the bars indicates the required energy meters to engage each ability. You will see your displayed abilities for each hero glow blue when they are ready to be used. Landing attacks, successfully blocking opponent attacks, and tagging in team members help fill the bar.
Building a combo is essential to getting the most from using your abilities or Supermove. Stringing together the moves mentioned above will create a combo. When you reach a 10 or 20 hit combo, you'll receive a damage multiplier when using an ability. Be careful though, as crouch attacks from your opponent can break that combo.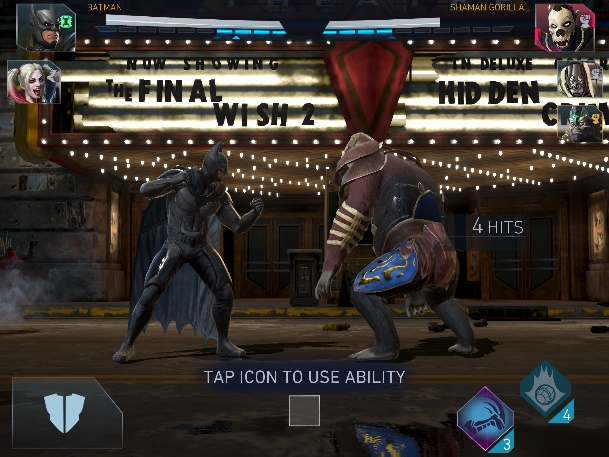 GENERAL
Keep an eye on loading screens in game! These provide additional tips and will change as you progress through Injustice 2.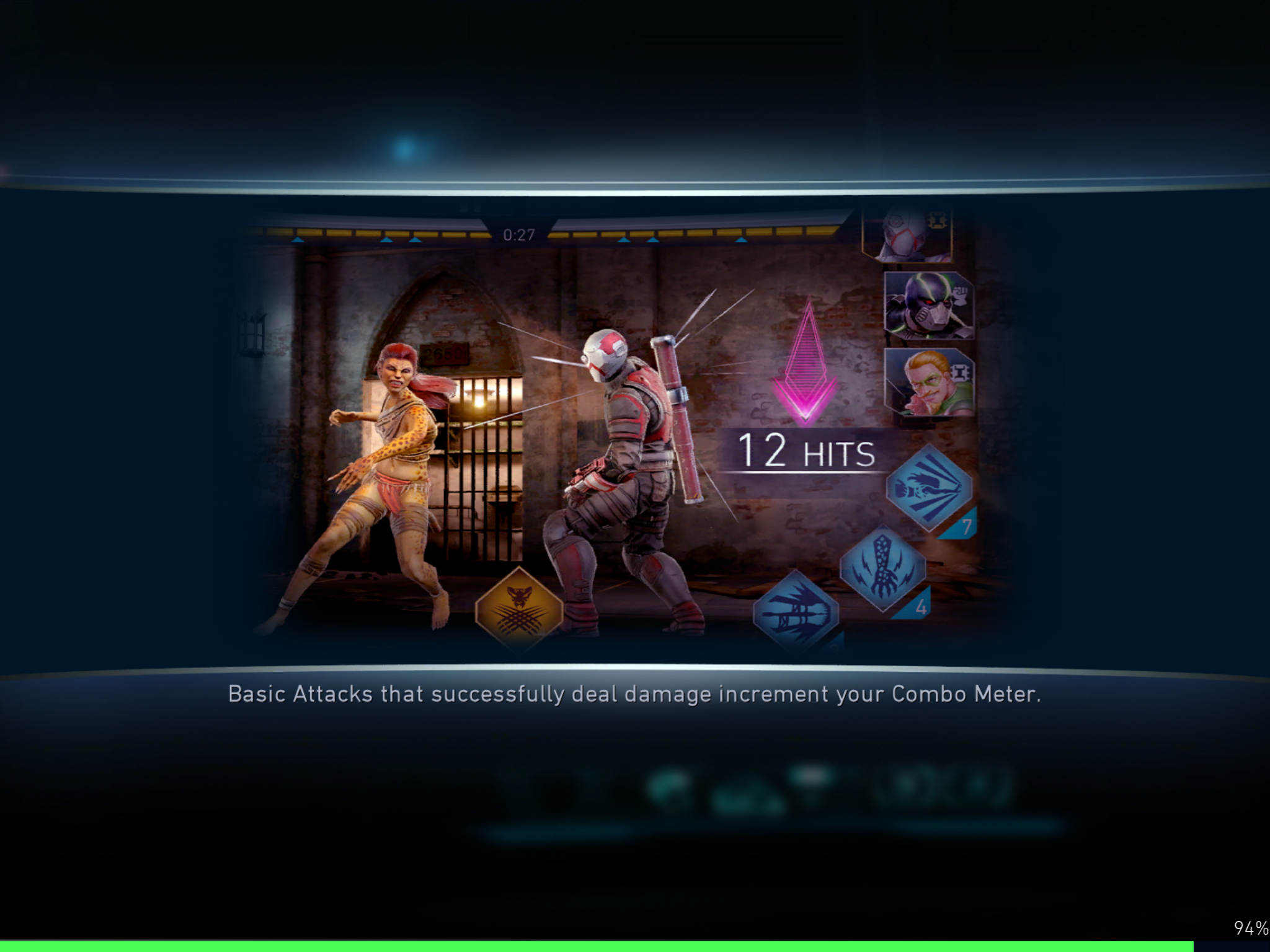 Make sure you complete your Daily Objectives as this will ensure you are comfortable with each mode featured in the game. You'll also obtain some rewards and Achievements along the way!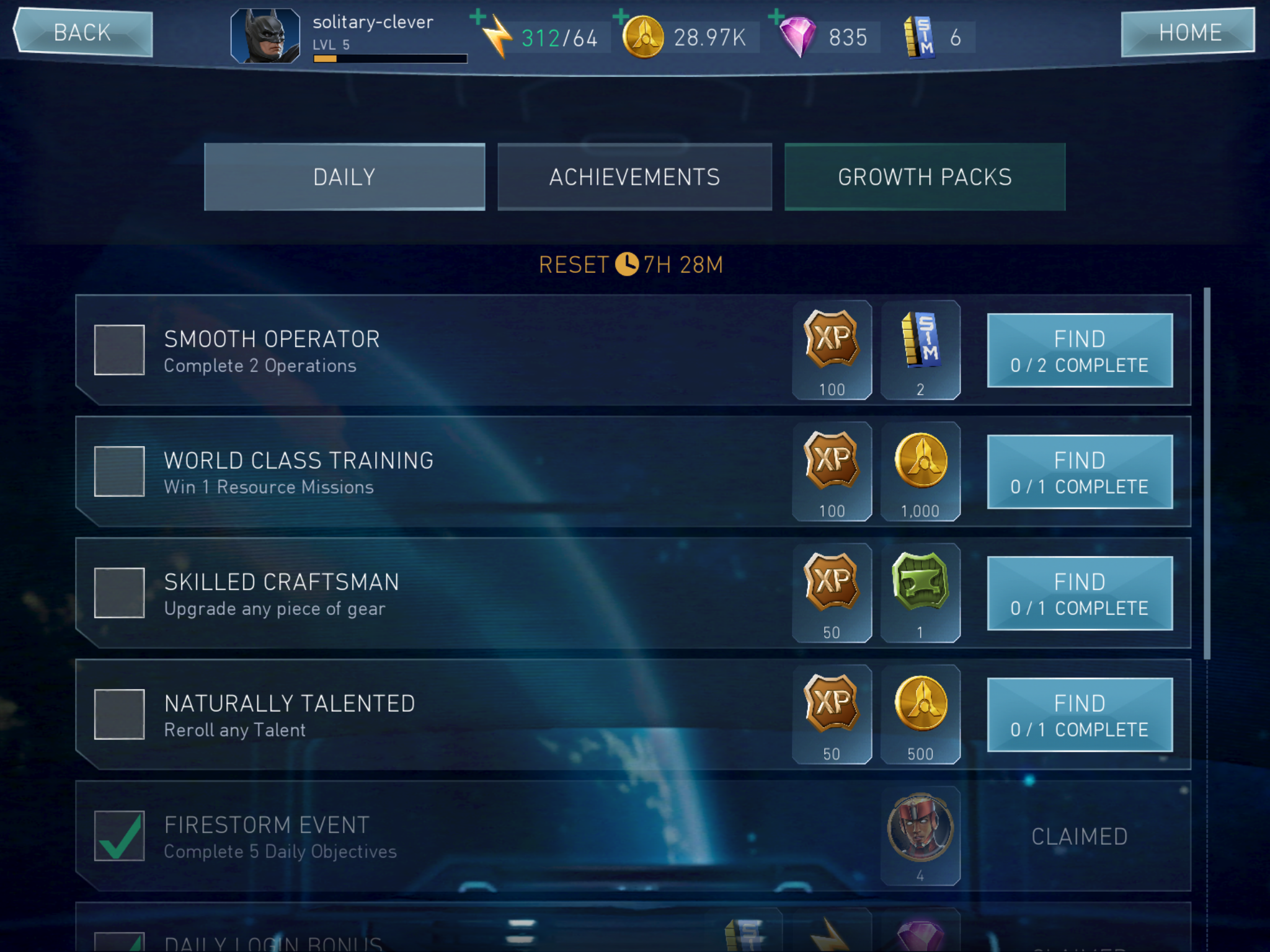 MODES
Campaign
Fight your way through 8 Chapters against various heroes in Injustice 2. When you have completed the Normal difficulty for a Chapter, be sure to check out the Heroic version! Completing Heroic battles is a great way to earn some Gear, Credits and a guarantee of receiving Hero Shards for heroes.
Operations
Assign heroes from your roster to go on remote missions. You can earn Credits, Hero Shards, Gear, Gems and Sims to progress your roster. You'll also have a chance to earn Hero Shards towards unlocking a Gold Heartbreaker Harley Quinn character! It's important to know that when characters are on these missions, they will not be available in other gameplay modes.
Arena
Put your Hero roster to the test and face other player's teams to work your way up the leaderboard. When the Arena season ends, you'll have a chance to earn Gems, Arena Currency and Hero Shards towards the season's featured Hero. Arena Currency is a great way to work towards unlocking popular heroes such as Grid and Predator Batman, as well as their gear. Keep an eye on your rank! The Arena is a live system so if other players advance, it affects your rank.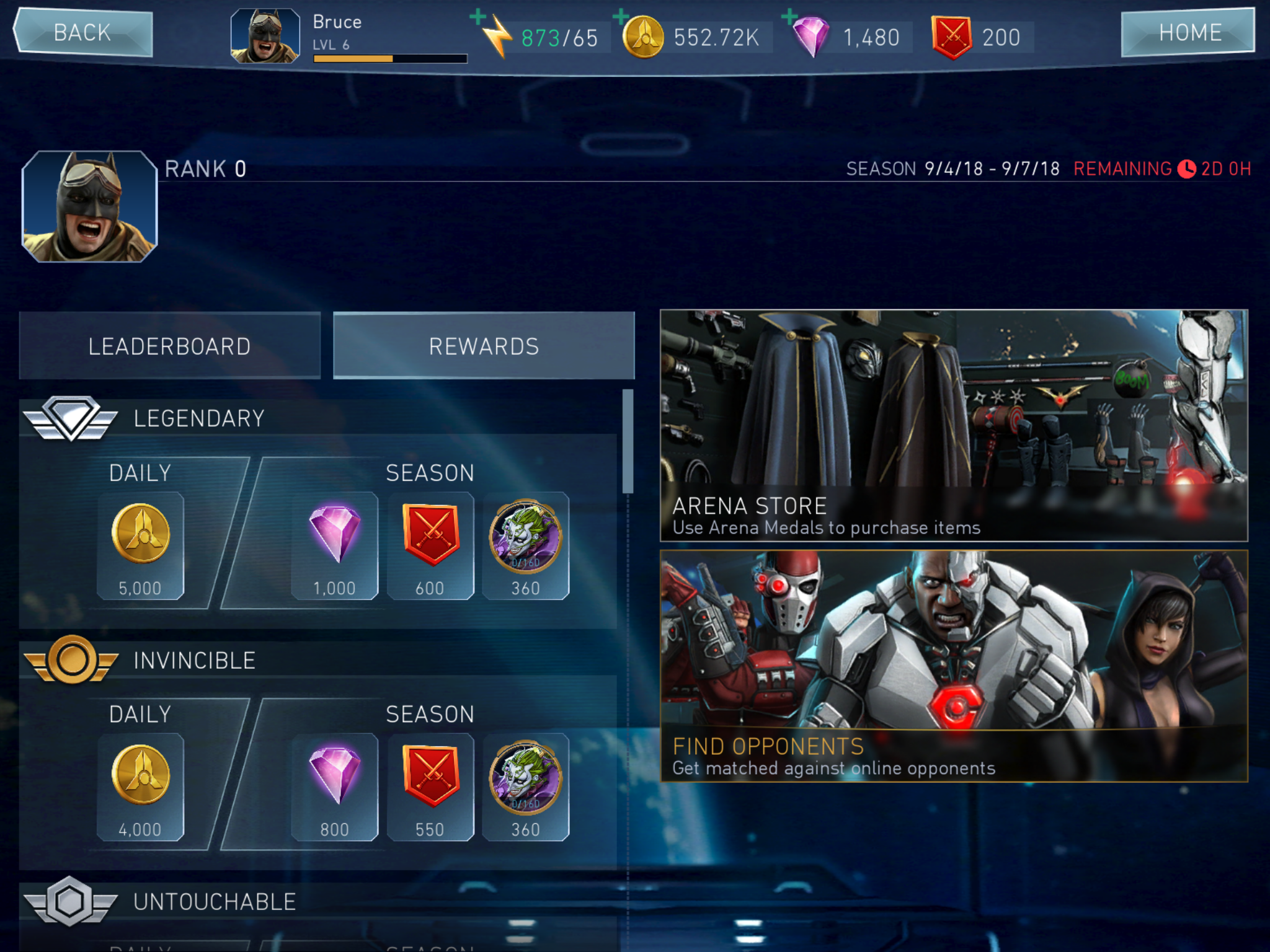 Challenge
Fight in 3 tiers of battles towards earning Hero Shards and gear for the featured hero! Each of the tiers varies in difficulty and may require you use certain types of heroes from your roster to participate. Challenge Mode rotates heroes every few days, so keep an eye on the expiration timer to know when to expect that specific Challenge will end.
Story
Injustice 2 continues the story set in motion in Injustice: Gods Among Us as Batman and his allies work towards putting the pieces of society back together, but struggle against those who would restore Superman's Regime. In the midst of this chaos, a new threat appears that will put Earth's very existence at risk.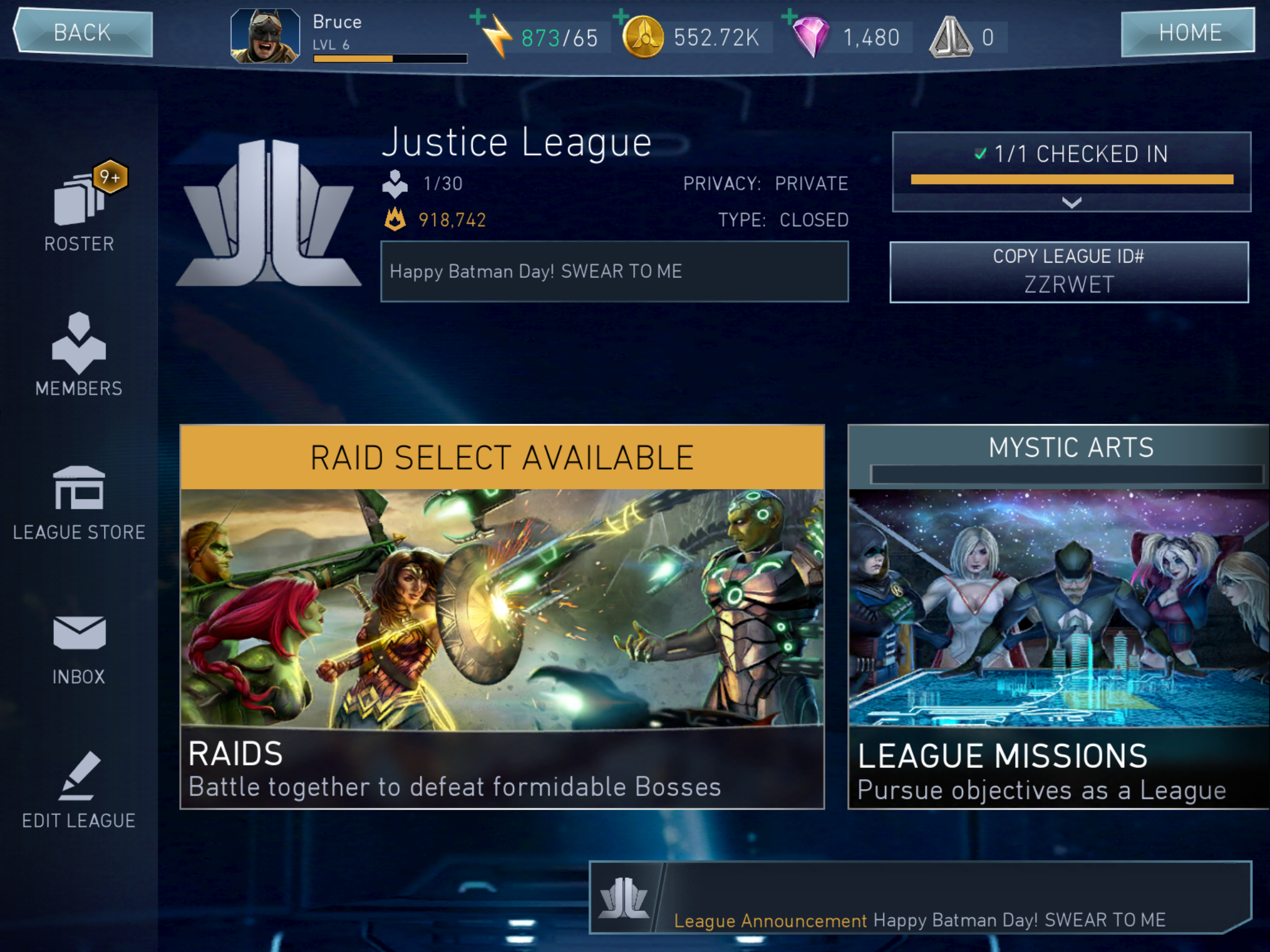 Leagues
Join up with other players and contribute towards a common goal. Here you can chat, strategize League Missions and Raids, and donate excess Hero Shards to your teammates. Complete an entire Raid to earn a chance to obtain high level Gear, Hero Shards and other items to further build your roster. You can also earn rewards for accomplishing other tasks in game as your team works together in League Missions. King of Atlantis Aquaman, John Stewart Green Lantern, Reverse Flash, Power Girl, Atrocitus and Red Hood heroes are all part of rewards that are exclusive to completing Raids and earning League Currency.
Save your progress
Ensure that your save data is linked to Google Play (Android) or Game Center (iOS) in the settings menu in-game! For more details on that, check out this article.
Other Guides
Ready to take your game to the next level? Head on over to the Intermediate Guide: https://go.wbgames.com/I2Minter
Want to skip ahead to the end? Check out our Advanced Guide: https://go.wbgames.com/I2Madvanced
Ready to conquer the Champion's Arena? Find out how at https://go.wbgames.com/ChampionArena