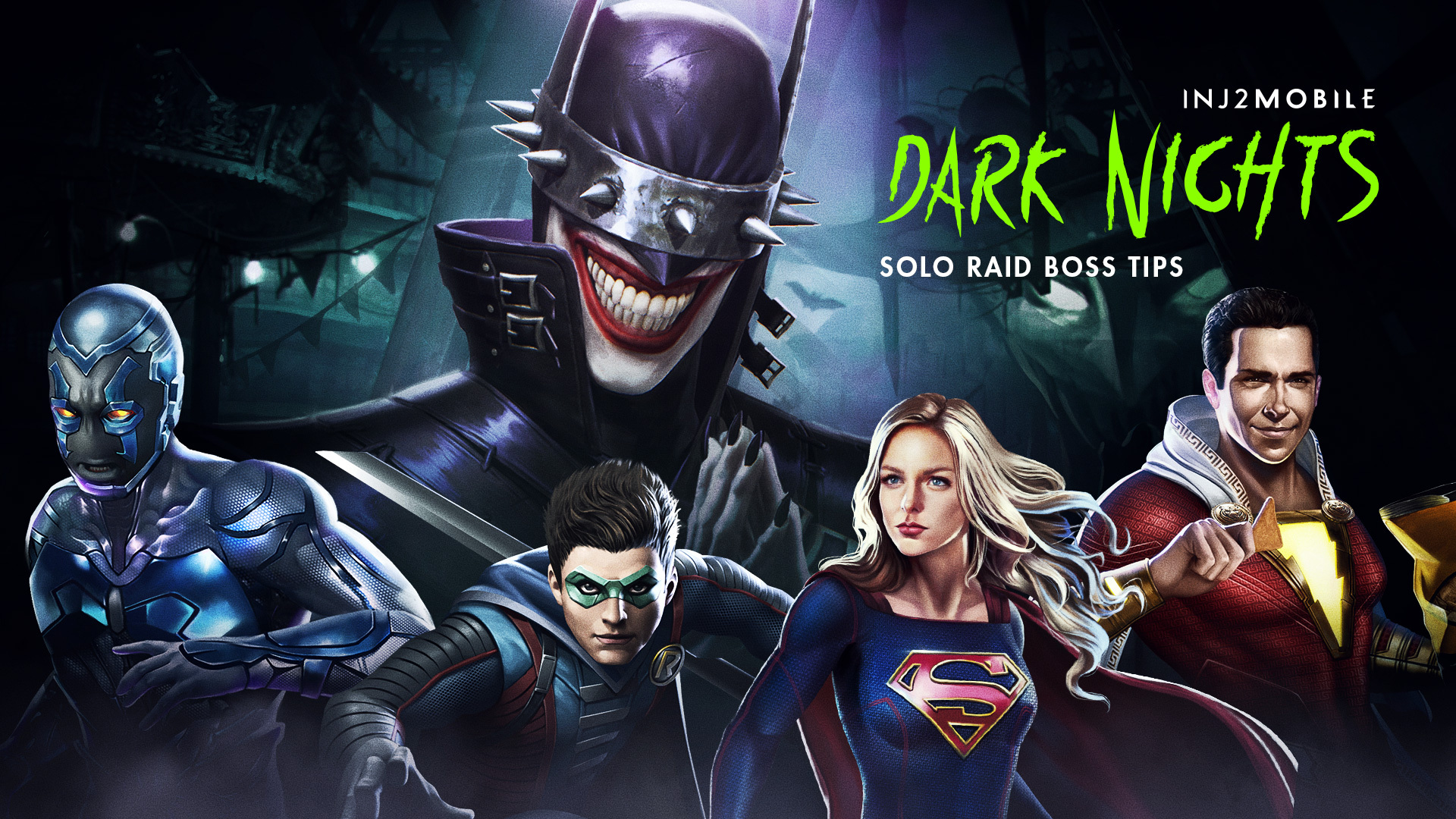 Table of Contents
Introduction to Solo Raids
Solo Raids are limited-time events where players fight through rounds of Raid bosses to earn exclusive new rewards in Injustice 2 Mobile. You can participate by selecting the Solo Raid tile (with the art shown above) from the home screen while the event is active.
NEW! Dark Night Solo Raid Tips
Damian Wayne Boss
Mechanics
Combo meter builds quickly
Combo Meter can only be broken with Special Attacks
With a higher combo deals critical damage on basic and swipe attacks
Ranged Abilities break opponent's combo meter even if you block them
Tips and Tricks
Duck, jump over, tag out or use your own projectiles when he uses his ranged attacks
Apply blind to increase the chances for the ranged projectile to miss with the Classic Team, Last Laugh The Joker, the Batman Ninja team and more
Make sure you use your Special Attacks often
Use characters that grant power generation, reduce special ability costs or gain access to free special attacks
Try to Utilize Silver Doctor Fate, Power Girl or Black Adam to reduce special attack costs
Use characters that can help with power generation like the Classic Team, Batman Ninja Gorilla Grodd or Vixen
Use characters with a chance to get free special attacks like White Canary or Powered Supergirl
Artifacts
Black Kryptonite
Use Special Attacks for Free once combo meter is high enough (29-20)
45-90% chance to avoid breaking combo meter when hit
55-100% chance to save combo hit count from resetting with the first 3 special attacks used in the round
Shazam Boss
Mechanics
Deals 2% of damage from all attacks per missing defense of the opponent below 75%
If you have 74% defense he will deal 2% more damage up to a 150% attack bonus if your defense stat is at 0%
Disables opponent healing
Tips and Tricks
It's time for your tanks to shine, bring in heroes with high defense values to significantly reduce Shazam's damage
Avoid Glass Cannons as Shazam makes easy work out of them
Bring characters that buff your team's defense
Classic Superman, Arkham Knight Batman, Golden Armor Wonder Woman and Justice League Superman all have this ability
Artifact
Thangarian Mace gives 3.75-6.5% bonus damage per 2% of wearer's defense while boosting your defense by 37.5-50%
Multiverse Supergirl Boss
Mechanics
Successful Special Attacks apply a 4 second DoT
While affected by DoT each tick steals 0.7 power bars of your own power bar
Starts battle with a small amount of power
Increased block effectiveness
Special Attacks cannot be disabled
Damage Cap
Tips and Tricks
Utilize characters that can handle the power drain or DoT effects from Boss Multiverse Supergirl or nullify her special attacks in general
Hellboy heals from DoTs but can still be affected by the power drain
Grid is immune to the power drain but can be hurt by the DoT
Wonder Woman, Gorilla Grodd and Superman Characters can reduce special attack damage and reflect it back using their special block
The Justice League team with Justice League Superman as well as Dark Super Girl and Golden Armor Wonder Woman can be utilized to interrupt her special attacks as can The Batman Who Laughs
Characters that can power drain reduce her ability to use Special Attacks, characters that increase opponent Special Attack costs or characters that can block opponent specials
Unbreakable Cyborg, The Reverse Flash, Atlantean Armor Aquaman and Green Arrow are good power drainers
Horrific Scarecrow, Black Adam and Multiverse Black Lightning can all increase opponent SP cost
Silver Banshee, Captain Cold and Vixen can prevent opponents from using special attacks
Artifacts
Jokerized Venom
The longer the opponent stays in the fight without tagging out, the weaker they get. Their attack and defense are decreased by 3.75-6% every second up to 45-90%
When the effect reaches maximum the opponent has 45-90% chance to fail their special attacks
Blue Beetle
Mechanics
Places a hazard on the map every 15 seconds which lasts for 7 seconds. While standing on this hazard heroes receive Hazard Damage DoT and cannot increase their combo meter
If your combo meter is 14 or below Special attacks deal only 50% damage but if they are 15 or higher they deal 200% damage
Tips and Tricks
Utilize a character to counter the DoT like Hellboy who is healed by the effect if you find yourself unable to escape regularly
Bring in characters that help build combo faster via Fast Attack bonuses like The Flash or Martian Manhunter
Use strong combo building heroes like Batman Ninja Robin and Blademaster Robin which have minimum combo meters
Use Collector of Worlds Superman along with other legendary characters to have a chance to not reset your combo counter when using special attacks
Remove the hazard completely with a well-timed SP3 from Suicide Squad Enchantress
Artifact
Jokerized Batarangs
Successful special attacks put poison on the opponent for 6-15 seconds. While poison is active, every basic attack inflicts 110-200% more damage. This portion of increased damage ignores defense
Increases fast attack hits by 1-3
Batman Who Laughs
Mechanics
Places a hazard on the map where the hero is standing leaving a hazard for 10 seconds. If BWL touches it then his Madness Level increases. Heroes standing in the hazard also gain Madness Level
Upon BWL reaching the Maximum Madness Level he gains unblockable basic attacks for 15 seconds
Upon the player's hero reaching Maximum Madness Level they become BWL's allies leave the player's team and fight the player
Stun and Freeze Immunity
Damage Cap
Rapid Class Changes
Tips and Tricks
Don't stand in the hazard, you have a short delay before the madness level increases, use that time to complete a rush attack, dash back or special attack to get out of there in a hurry
Don't let the madness reach the maximum on your heroes, change your characters during battle
Don't let the madness reach the maximum on Batman Who Laughs, utilize characters that can cleanse opponent's buffs from them like Raven
Don't let BWL stand in the hazard, again rush attack or dash back
Utilize characters that can remove debuffs from themselves
Justice League Superman SP1
Remove the hazard completely with a well-timed SP3 from Suicide Squad Enchantress
Utilize characters that can block opponent Basic Attacks
Multiverse Black Lightning SP2
Remove the class advantage that BWL gains by brining in Vixen as your support
Artifacts
Hand of Zatanna
Successful specials chain the enemy removing positive effects (including madness) and disabling their basic, swipe and low attacks for 5-14 seconds
While the opponent is chained they suffer 210-300% more damage
Rewards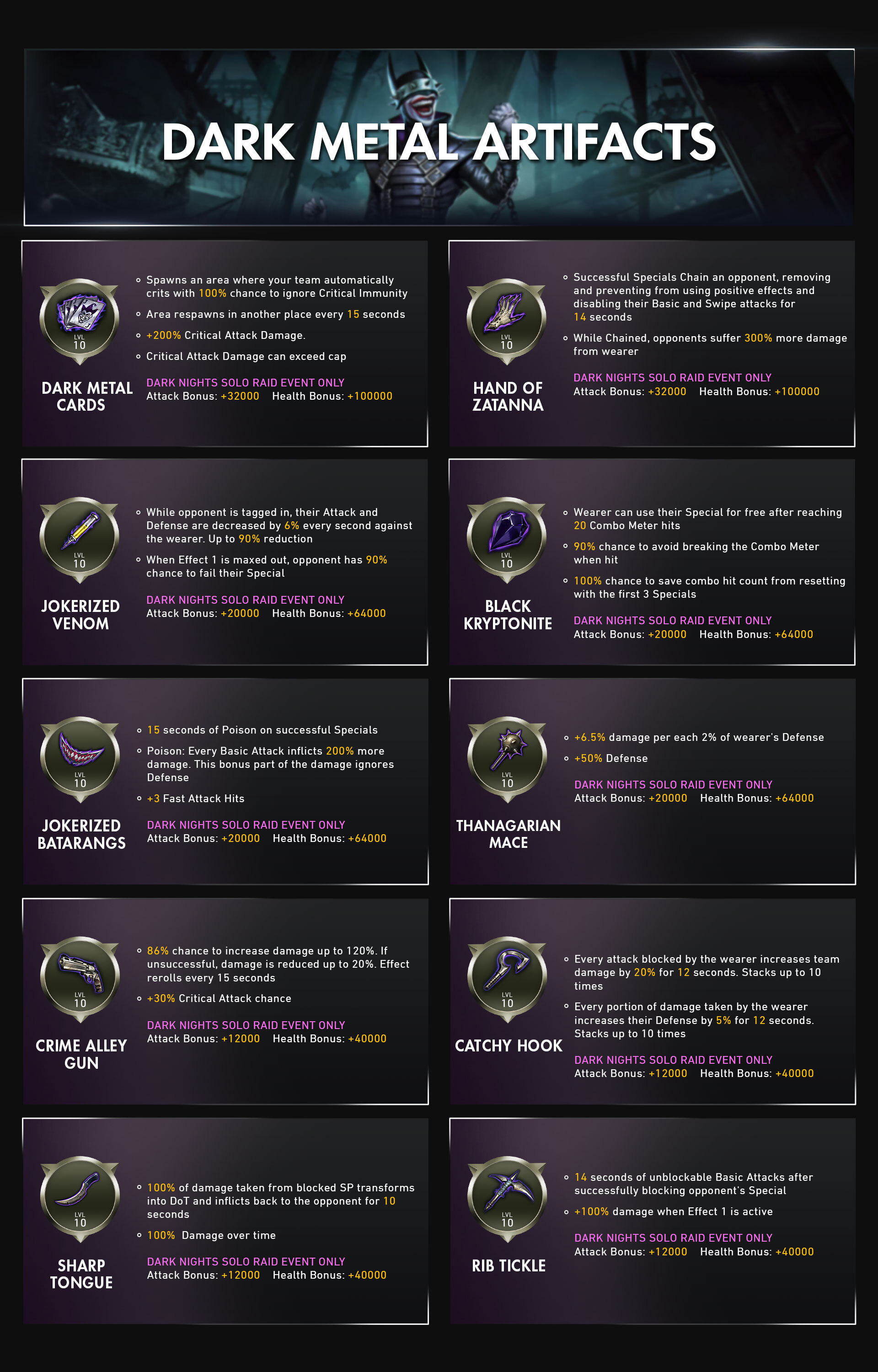 The Rules
When a player's account reaches level 20, the Solo Raid mode is unlocked. Progression is similar to group Raids that you would participate in through Leagues where there are 4 sub-bosses and one main boss. Unlike League Raids, credits are not required to start. There are 5 Solo Raid levels, each with their own sub-bosses and main boss that increase in difficulty with each level.
Unlock Requirements
Level 1 - Available to all when Solo Raids are unlocked

Level 2 - Available after defeating (4) Solo Raid Bosses or Sub-Bosses

Level 3 - Available after defeating (8) Solo Raid Bosses or Sub-Bosses

Level 4 - Available after defeating (12) Solo Raid Bosses or Sub-Bosses

Level 5 - Available after defeating (20) Solo Raid Bosses or Sub-Bosses and all previous levels.
Solo Raid Energy
Players receive 6 attempts per day, with 3 attempts updating every 12 hours.
Heroic Mode
Heroes who complete all 5 levels in the Normal mode will unlock a new difficulty tier known as "Heroic Mode". In this mode, you can face off against all previously defeated bosses, but their health has been reset and they receive attack and health bonuses that increase with each completion.
Other Solo Raid Artifact Rewards
Learn more about Artifacts you can obtain from past Solo Raid Events here.
Check out our Injustice 2 Mobile gameplay guides:
Beginner Guide: http://go.wbgames.com/I2Mguide
Intermediate Guide: https://go.wbgames.com/I2Minter
Advanced Guide: https://go.wbgames.com/I2Madvanced
Champions Arena Guide: https://go.wbgames.com/ChampionArena
COMMUNITY

You can also stay up to date on the latest news and updates from the game team through official social media channels:
Still have a question? You can submit your question here. You can also update and track your ticket as well.