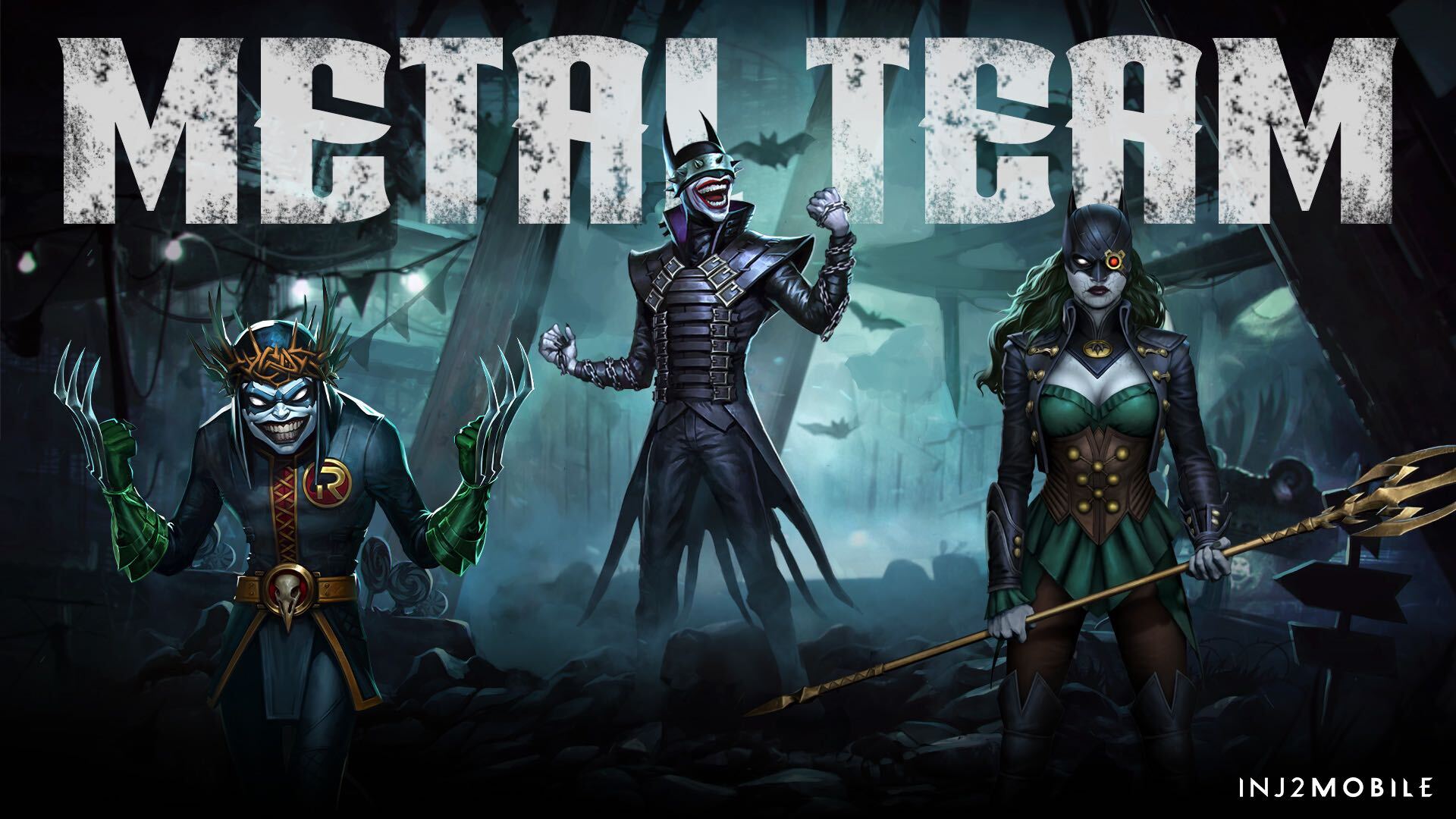 In this guide we're going to cover how to create team synergy by grouping together specific sets of characters from your roster. These characters can share and receive bonuses from their passive abilities with their teammates, benefiting your team and weakening your opponents.
You can see each character's passives in detail by opening the abilities section when selecting the hero card from your roster.
Let's look into the different teams you can form that will share bonuses below.
Quick navigation
Metal Team
Crisis Energy is a resource used by Metal characters. Batwoman The Drowned and The Batman Who Laughs will activate their ultimate abilities simultaneously when the level of Crisis Energy reaches its maximum.
Robin King (Legendary , Agility)
VICTIM - Robin King's successful specials apply the Victim debuff on the opponent, disabling Critical Attack immunity and Сritical Attack resistance. Successful basic and swipe attacks of Metal characters against opponents with Victim debuff produce Crisis Energy.
MANIAC APPETITE - Player's team successful basic and swipe attacks against the opponent with Victim debuff apply stack of Maniac Appetite, increasing team's Critical Damage and Critical Attack chance. Stack's count begins to decrease after a short amount of time.
Robin King gains additional stacks for each Metal teammate in the battle.
FOG OF CARNAGE - When the level of Crisis Energy reaches its maximum, the Robin King summons a Fog of Carnage, which blocks opponents' specials and gives a chance for Metal teammates to deal unblockable attacks.
Batwoman The Drowned (Gold, Might)
DEAD WATER INFECTION - The Drowned infects the opponent with successful Basic and Swipe Attacks, reducing their healing effectiveness. Batwoman increases damage from Metal teammates attacks and Hazard DoT from all teammates per each Infection stack on the active opponent.
Each 4th applied stack produces Crisis Energy.
ULTIMATE HYDROKINESIS - When the level of Crisis Energy reaches its maximum, Batwoman The Drowned uses her devastating hydrokinetic powers to resurrect Metal teammate and flood an entire level with her Ultimate Hazard.
CRISIS ENGINEERING - The Drowned can power up her Specials by spending Crisis Energy on them in addition to Power. By tapping the Special button for the 2nd time, her Specials will also create a Hazard DoT.
The Batman Who Laughs (Legendary, Metahuman)
THE DARKEST KNIGHT - Each successful Special performed by The Batman Who Laughs produces Crisis Energy. When the level of Crisis Energy reaches its maximum, the Batman Who Laughs temporarily transforms into his ultimate form - The Darkest Knight.
In this form, The Batman Who Laughs cannot perform Specials and is not affected by any timed buffs or debuffs, but his Attack is increased. Each 4th attack against an opponent reduces their health by a percentage. Health reduction ignores Defense, but can be affected by Blocking or Passives.
ULTIMATE DESPAIR - The Batman Who Laughs can interrupt opponent's Specials by performing his own using Crisis Energy instead of power. This applies permanent Despair debuff on the opponent, reducing their damage.
Only Specials of the same or higher rank can be used for interruption.
MASTER MANIPULATOR - Using Specials and Supermoves with a high Combo Meter grants The Batman Who Laughs extra Crisis Energy.
Classic Team
The Classic team trinity is now complete with the addition of Classic Wonder Woman, and they are stronger than ever before. Classic Wonder Woman brings new synergies to the team while Classic Batman and Classic Superman's abilities have been improved. Power up your Classic team today!

Classic Wonder Woman (Gold, Agility)
Strength of the Amazonian Passive - Wonder Woman and her teammates gain extra Critical Attack damage based on their current Defense. Can exceed cap.
Wisdom of Athena Passive - Wonder Woman and her Classic teammates gain extra Critical Attack chance against Blinded opponents. Can exceed cap.
Believer in Wonder Passive - If Classic Wonder Woman is in your Roster, all Wonder Woman and Classic heroes gain extra chance to roll Rare and Epic talent, with chances doubled at max level.
Classic Batman (Gold, Agility)
Batman Inc Passive - If Classic Batman is in your Roster, all Batman and Classic heroes gain a bonus to their Attack and Health when they enter combat.
Power Seize Passive - When an opponent misses an attack on Classic heroes due to being Blinded, the team gains Power. Additionally, Batman aids the Classic team by empowering their Rush attacks with Blind.
Classic Superman (Gold, Might)
Power of the Sun Passive - Active Classic teammate heals from Power Boost. Power Generation is not considered a Power Boost.
Tough Skin Passive - All teammates are granted an increase to defense, when Classic Superman is in their team.
Suicide Squad - SSQ
"So that's it, huh? We're some kind of Suicide squad?"
The worst of the worst just got even better. The newly refactored Harley Quinn and Deadshot form the latest team known as the Suicide Squad. As of the 3.6 Update, Enchantress joins their ranks as a strong counter to opponents that have a focus on critical attacks. With each instance of resisting a critical attack, the SSQ team member is healed for 10 seconds. This is intensified by Harley Quinn being immune to Critical Attacks and having the ability to steal a random stat from your opponent.
In addition to a successful Ranged Attack from Deadshot having a chance to disable the movement of his opponent, there is the possibility for Enchantress' passive to steal part of the opponent's current power.
To top things off, Harley reduces the cost of the Suicide Squad's team's Power bar cost. This means more special abilities, more often and an unpredictable but well-rounded team.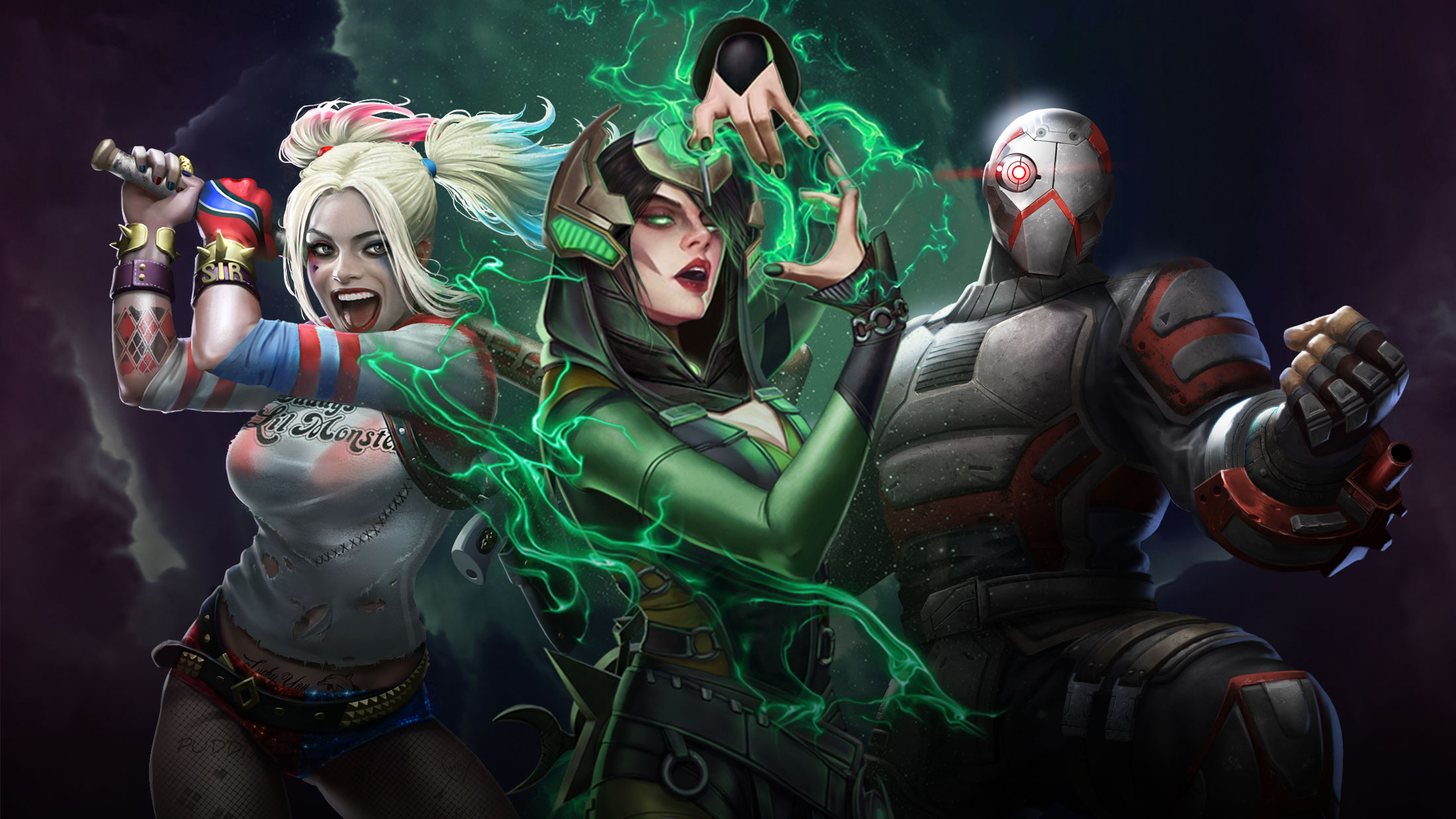 Suicide Squad Enchantress (Legendary, Arcane)
Mortal Host – Enchantress helps her mortal host when her health drops too low. When under this buff, Enchantress deals increased damage and auto-crit on Special Attacks, ignoring Critical resistance. When triggered at 25% of Max Health for the first time, Enchantress additionally gets extra Power.
Outworldly Nature – Each time Enchantress or her Suicide Squad teammates resist a Critical Attack, they get healed over 10 seconds for a percentage of their max health. This effect does not stack.
Unlimited Power – Successful Ranged attacks performed by Enchantress or Suicide Squad teammates steal part of opponent's current Power.
Suicide Squad Harley Quinn (Legendary, Agility)
The Suicide Squad – Harley gains bonuses from Deadshot and Harley Quinn teammates. She is immune to critical attacks and grants her team increased critical attack resistance.
Psychoanalyze – When hitting an opponent for the first time, Harley randomly reduces one of their stats and steals part of it to share with her teammates. She can steal, Critical Attack chance, Critical Attack damage, Fast Attack chance, Defense or Blocking. Stolen stats can be stacked. Effects end if Harley is KO'ed.
Twisted Love – Teammate Joker grants Harley increased Attack. If Joker is on the opposing team, Harley gains Stun and DoT resistance buff, sharing part of DoT resistance with her team.
Suicide Squad Deadshot (Gold, Tech)
Sniper – Deadshot deals extra damage with a high chance for lethal hits based on his opponent's distance.
Suppressive Fire – Deadshot's Ranged attack has a chance to temporarily disable his opponent's movement. Also, his Specials may disable the corresponding Special of the active opponent for a limited time.
Assassin – Each time a Suicide Squad teammate performs a special, Deadshot fires his weapon from off screen.
Justice League Team - JL
"People said the age of heroes would never come again."
You can't go wrong with any of the team benefits here. Cyborg's team damage boost is a common staple for a Justice League team. When stacked with the temporary attack boost for Mythic Wonder Woman when she defeats an opponent, momentum can pick up quickly.
For an offensive focused team, The Flash will grant you an unblockable special ability or you can benefit from Aquaman adding armor piercing to all basic attacks.
Defensive-minded players will gravitate towards teams that include Batman so all teammates can ignore damage from one special ability per battle. The now Legendary status Justice League Superman improves the defense of your entire Justice League team and benefits from being paired with and against any Batman or Wonder Woman. Finally, Aquaman can revive a knocked-out teammate when he uses his Supermove.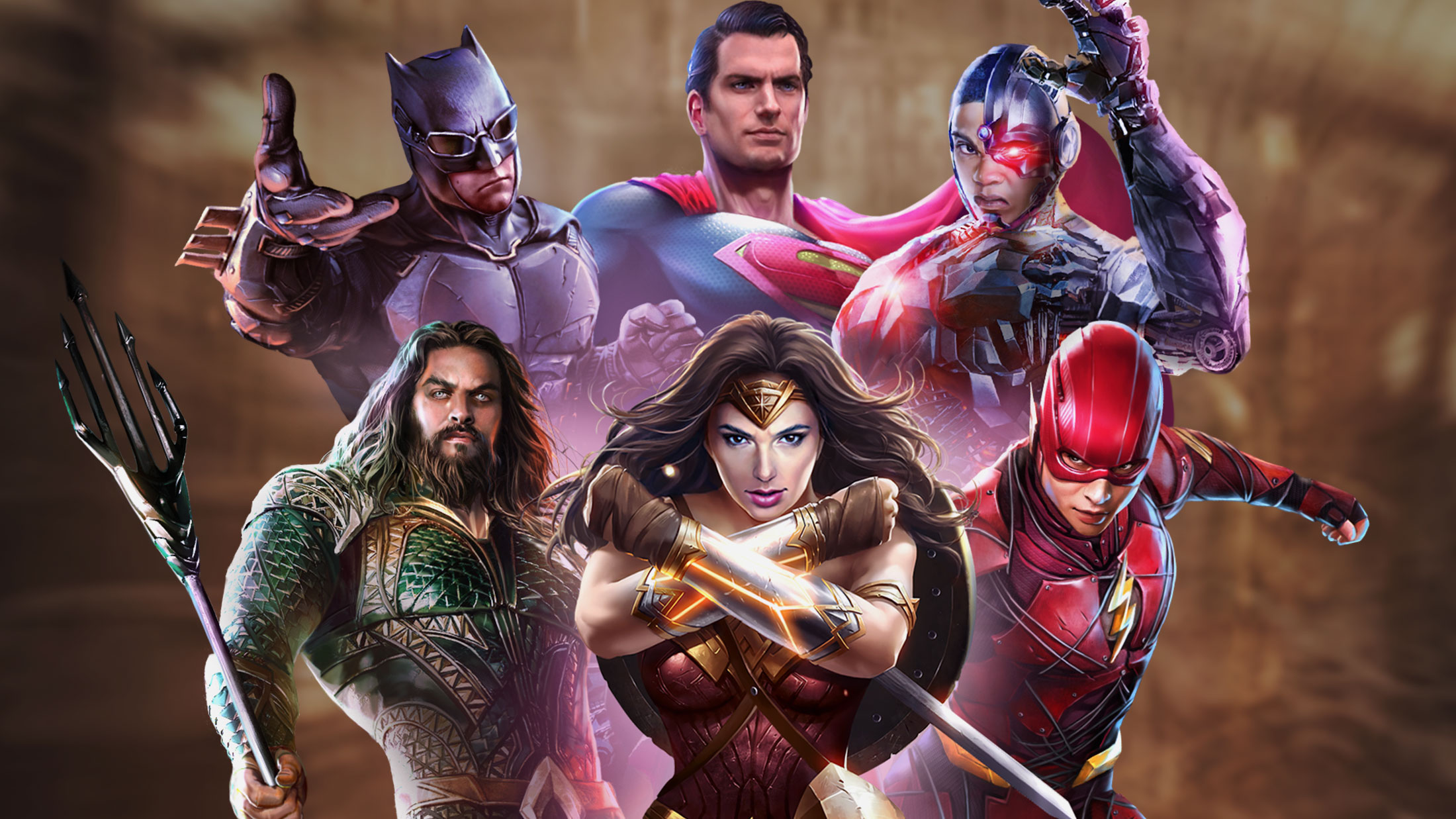 Justice League Superman (Legendary, Might)
Batman Versus Superman – Superman gains bonus Attack or Health when Batman or Wonder Woman are on either team during battle. These bonuses stack and also apply to Batman and Wonder Woman teammates.
Do you bleed? – All Legendary and Justice League teammates gain improved Defense.
Protector – Superman protects his active teammates from opponents' Special Abilities, tagging in and interrupting the Ability with a powerful slam.
Justice League Batman (Gold, Agility)
Tactical Batsuit – All JL teammates gain a shield that ignores damage from one opponent special ability per battle.
Justice League Cyborg (Gold, Tech)
Cybernetic Body – Increased damage for JL teammate's basic, tag, and swipe attacks. Also, JL Cyborg is immune to Stun and if targeted by a Stun, he gains power.
Justice League Aquaman (Gold, Might)
Primordial Power - All JL teammates gain chance for armor pierce on basic, tag and swipe attacks. This passive also gives Aquaman the ability to revive a KOed teammate upon using his Supermove.
Justice League the Flash (Gold, Metahuman)
Hyperspeed Assault – Provides an additional Fast Attack hit and causes the first special for JL teammates to be unblockable.
Mythic Wonder Woman (Gold, Might)
God Killer Sword – As she defeats her opponents, WW absorbs some of their attack, dealing increased damage for a limited time.
Benefits from the passive abilities of Justice League teammates.
Batman Ninja Team - BN
"And You Thought You Knew Every Batman Story..."
The core of this team really revolves around Robin and Catwoman. Robin's "Combo Kid " passive keeps your combo meter up, which makes your abilities more effective. Catwoman's "Blinding Strike "passive allows you to keep pressure on after using an ability by blinding the opponent to prevent attacks against your BN teammates. These passives in tandem create a well-balanced team.
Offensive-minded players will benefit from adding Batman to their third slot. Batman's second special has a chance to utilize his third ability at no cost, which pairs well with Robin's passives. As the latest member of the Batman Ninja team, Legendary Gorilla Grodd is also a great offensive option. His "Active Shield' special will allow you reflect incoming damage back on your opponent. Grodd's "Master Plan" passive rewards each BN teammate for landing a lethal attack with additional power bars as well.
For those who want to add staying power to their team, Ninja Lord Joker's passive can revive up to two teammates against a team that has a Batman character. Gorilla Grodd's "Dramatic Reversal" passive can feed into his "Mind Force" special ability which will share it's healing effects among the whole team. Catwoman's "9 Lives" passive will allow for your BN team to become temporarily immortal at low health. All of these benefits can give you an edge in any prolonged fight.
Harley Quinn is unique in that just having her on your roster will provide a benefit to all of your BN characters! Even if she is not included on your team, your character will get a bonus to their attack and health.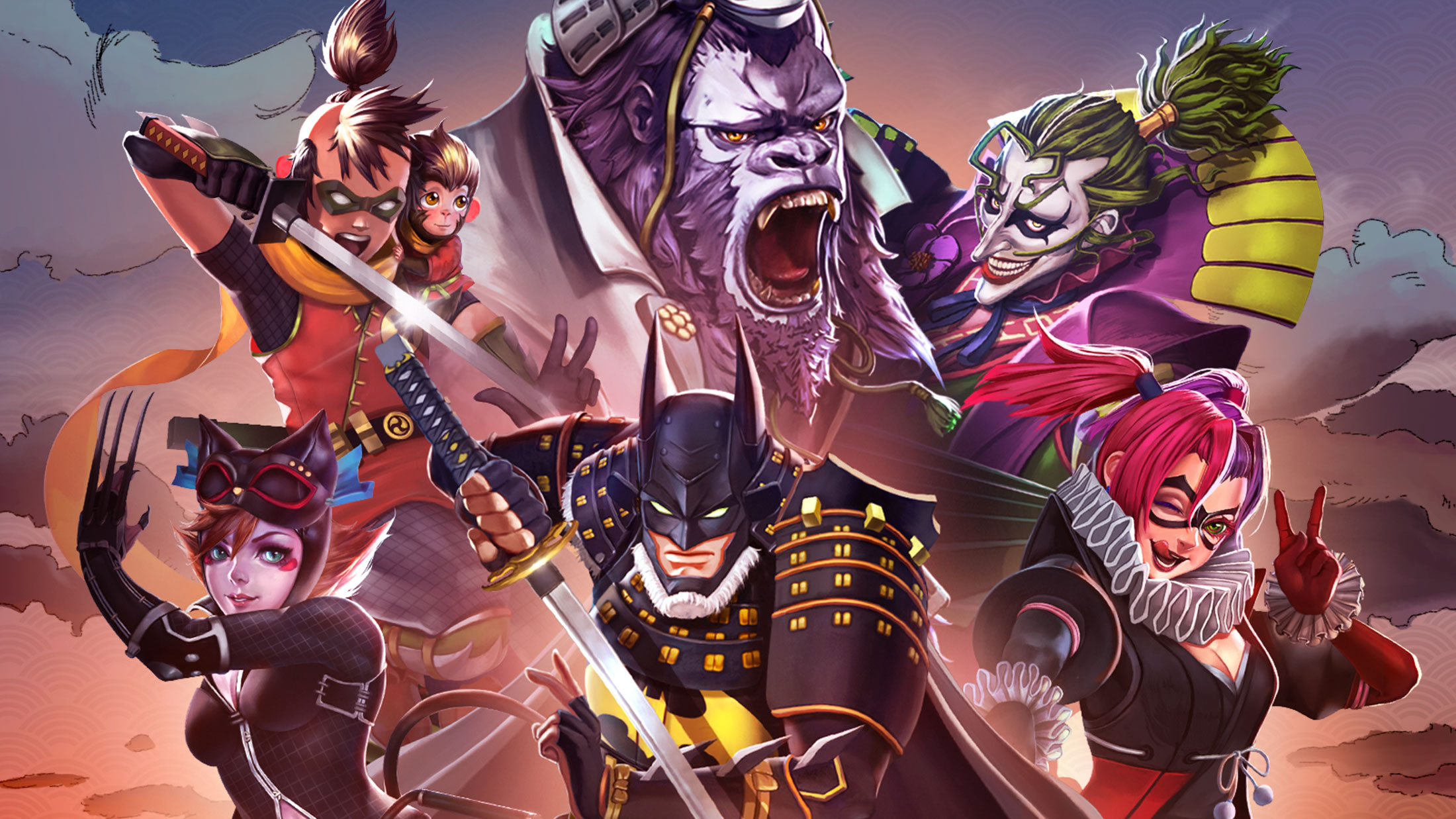 Batman Ninja Gorilla Grodd (Legendary, Might)
Crippling Blow – BN teammates deal increased damage and temporarily lower opponent's damage and defense on every 5th Basic or Swipe attack.
Master Plan – Whenever Gorilla Grod, BN teammates, or Legendary allies land an unblocked Lethal Attack, they gain power.
Mind Force – Uses his psychic powers to smash his opponent. All healing effects applied to BN teammates temporarily get buffed and shared.
Batman Ninja Batman (Gold, Tech)
Benefits from the passive abilities of Batman Ninja teammates.
Batman Ninja Robin (Gold, Agility)
Combo Kid – At battle start and on each tag-in Robin adds bonus hits to the combo meter for BN teammates. Their combo meter cannot be lowered completely as a result.
Ninja Lethality – Each Letal attack landed by Robin or Batman Ninja teammates temporarily increases their Lethal Attack damage. These effects will stack.
Monkey Style Swordplay – whenever an opponent misses a basic attack, Robin and BN teammates temporarily gain lethal attack chance buff. This will stack each time.
Batman Ninja Catwoman (Gold, Agility)
Blinding Strike – Specials 1-3 blind opponents causing them to miss 50% of the time against BN teammates.
9 Lives – When at low health BN teammates temporarily become immortal, which prevents them from being knocked out.
Are you kitten me? – Whenever BN teammates successfully block a special ability, they gain part of its power cost. If this block is performed by Catwoman, her Special 3 (Cat-lateral Damage) is triggered.
Batman Ninja Harley Quinn (Gold, Agility)
If she is on your roster, all BN heroes gain an additional percentage of Harley's base attack and health without gear, Talents or Passive Effects. Bonus activates in combat.
Batman Ninja Lord Joker (Gold, Agility)
Benefits from the passive abilities of Batman Ninja teammates.
League of Anarchy - LOA
These newly refactored villains are not to be taken lightly. One of this team's strengths is damage-over-time (DoT), which makes them especially strong against teams with high defense and crit resist. They also control the fight by keeping opponents stunned, including being able to reflect stuns back at an opponent.
If The Joker is active and an opponent tags-in a teammate, which his special 3 can force them to do, there is a chance they will be stunned. The team has numerous abilities that can place a DoT on the opponent, which are boosted in strength from The Joker, as well as any basic attack thanks to Poison Ivy's passive. With your opponent's resistance to stun and DoT reduced from Harley Quinn, she and Ivy can truly wreak havoc. While active, Poison Ivy heals herself and her LOA teammates for a percent of DoT dealt.

Last Laugh The Joker (Gold, Agility)
Killing Joker – When anyone is defeated on either team, The Joker gains an increase to damage for the remainder of the battle. When The Joker is defeated, a poison bomb detonates and stuns the opponent for a brief time.
Joker Venom – Last Laugh The Joker and League of Anarchy teammates deal increased damage over time (DoT).
Caught you off guard – When Last Laugh The Joker is active, any time an opponent tags-in, they may be stunned.
Heartbreaker Harley Quinn (Gold, Agility)
It's not me, it's you – Teammates targeted by stun attacks gain a chance to reflect them, stunning the attacker instead. Harley also increases Hero XP earnings for all combatants within the same roster.
Let your guard down – Heartbreaker Harley Quinn reduces the opposing team's stun resistance and DoT resistance
Straight to the heart – Until she is knocked out, Heartbreaker Harley Quinn and her teammates deal increased damage on opponents while they are stunned. Critical Hits against Harley and League of Anarchy teammates are greatly reduced in damage.
Entangling Poison Ivy (Gold, Metahuman)
Entangling Vines – Ivy's special abilities Bed of Thorns and Root Pound disable evade, ranged, rush and jump attacks of the opponent for a limited time.
Toxins – Until Poison Ivy is knocked out, basic and swipe attacks dealt by League of Anarchy teammates do additional damage as DoT.
Regrowth – While Entangling Poison Ivy is the active combatant, she heals herself and her League of Anarchy teammates for a percentage of the DoT dealt.
Multiverse Team - MV
CW fans rejoice! Green Arrow's Power Drain has a chance to steal power from your enemy and give it to your team, which reduces being on the receiving end of your enemies' offensive abilities. He is a popular pairing with White Canary, who can add to your equipment's base critical attack chance and maybe even get you a zero power cost Electric Arrow ability use for Green Arrow.
Both versions of Supergirl have great support benefits which add a lot of longevity to an MV team through their defensive abilities: Armored Supergirl gives her team an edge in battle by providing a starting amount of power and can provide critical attack immunity; while Multiverse Supergirl shores up her team's defenses if they are moderately wounded.
Black Lightning can make things tough for opponents who have a tendency to use abilities far too often.
Batwoman's increased special attack damage from each MV team buff paired with Captain Cold's shield will ensure an aggressive, but safe, start to any fight for the team. She is another good candidate to team up with White Canary, who has the ability to make Batwoman's Special 1 free, which, when used, provides Batwoman with a chance to perform a zero power cost Special 3. Bam! Domino effect!
The Flash provides great offensive benefits to his teammates and can be a great 3rd member on any Multiverse-centric team, allowing MV teammates to fire off their specials often.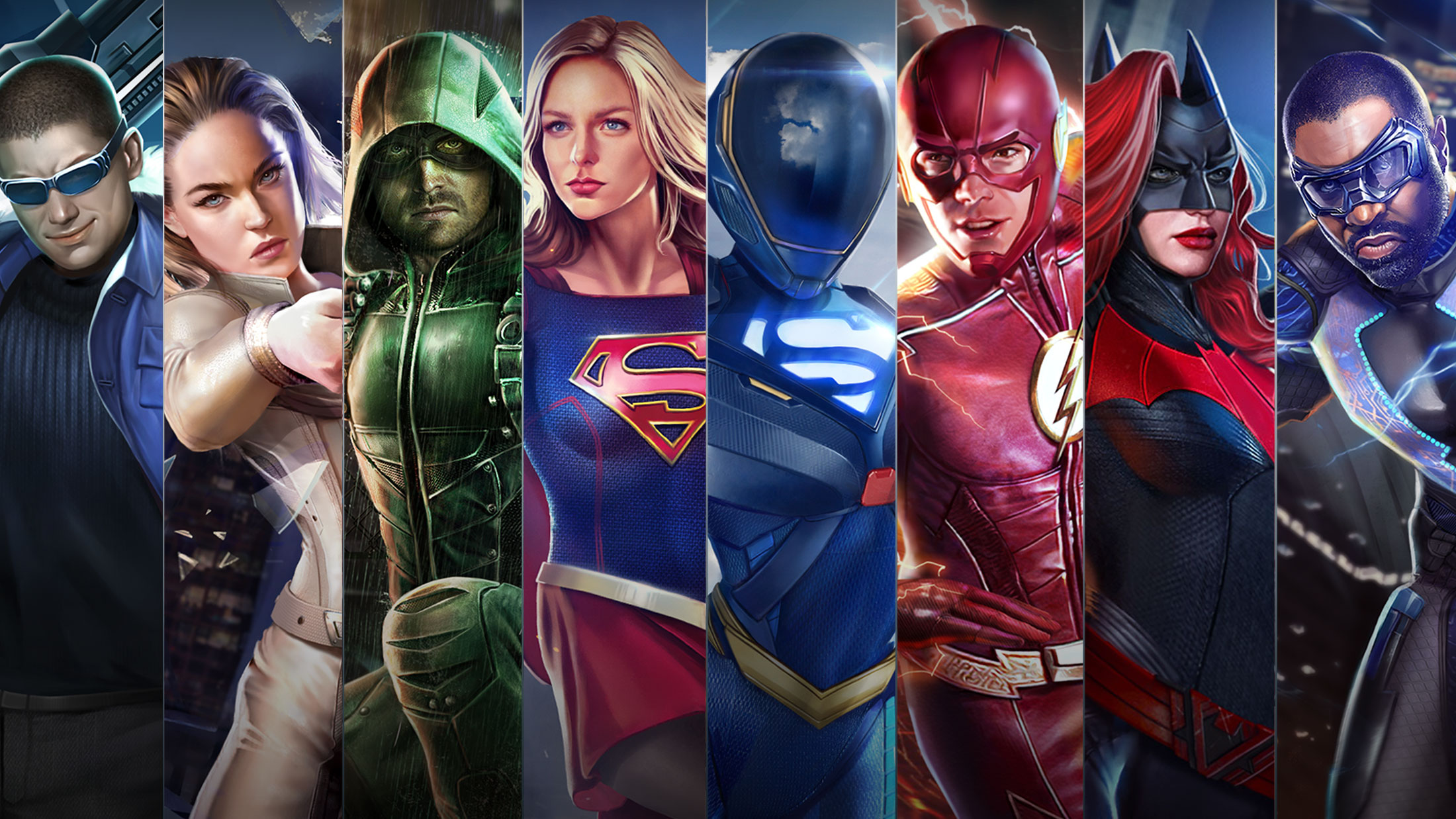 Multiverse Green Arrow (Gold, Tech)
Power Drain – MV teammates each gain a chance to power drain on special 1. These power drains have a chance to steal power from the opponent.
Multiverse Incendiaries - MV teammates gain a chance to apply a power Damage Over Time on Special 3 for 7 seconds.
Endurance Training – All teammates gain a Health bonus.
Multiverse Supergirl (Gold, Might)
Tenacity – MV teammates received reduced incoming damage when at low health. All teammates are granted an increase to defense.
Multiverse The Flash (Gold, Metahuman
Multiverse Critical - MV teammates gain a bonus to critical attack chance and increase to critical attack damage.
Multiverse Haste - MV teammates can user special attacks faster.
S.T.A.R. Labs – Barry can avoid Special Attacks from Tech class opponents.
Multiverse Armored Supergirl (Gold, Might)
Multiverse Power – Team starts battles with additional Power Bars per MV hero on either team.
Fueled By Might – Armored Supergirls' Power Generation increases per Might class opponent.
Interruption – When tagged-in by Multiverse teammates, Supergirl may land an unblockable attack that can interrupt opponent Specials. If she interrupts a Special she immediately gains power.
Multiverse Black Lightning (Gold, Metahuman)
Overload – Teammates who are power drained regenerate health for each bar of power drained. Power cost of opponent abilities increases per use against MV teammates.
Multiverse White Canary (Gold, Agility)
Multiverse Weapon Master – MV teammates special 1 has a chance to cost no power. Increase to the base effect of equipment gear (5th gear slot).
Multiverse Batwoman (Gold, Agility)
Tactical Strikes – For each active buff from a MV teammate, Kate's special attack damage is increased, to a maximum of 150%.
Tactical Prep – Batwoman extends the duration of all MV buffs applied to her.
Combat Focus - Kate Kane gives her entire team a chance to keep their combo hit count from resetting when hit.
Multiverse Captain Cold (Gold, Tech)
Cold Barrier – Buffs MV teammates at the start of the battle with a shield that reduces incoming basic, tag, and swipe attack damage. Cold also gives all MV teammates armor-pierce chance resistance.
Alternate INJ2 gameplay guides
Beginner Guide: http://go.wbgames.com/I2Mguide
Intermediate Guide: https://go.wbgames.com/I2Minter
Advanced Guide: https://go.wbgames.com/I2Madvanced
Champions Arena Guide: https://go.wbgames.com/ChampionArena