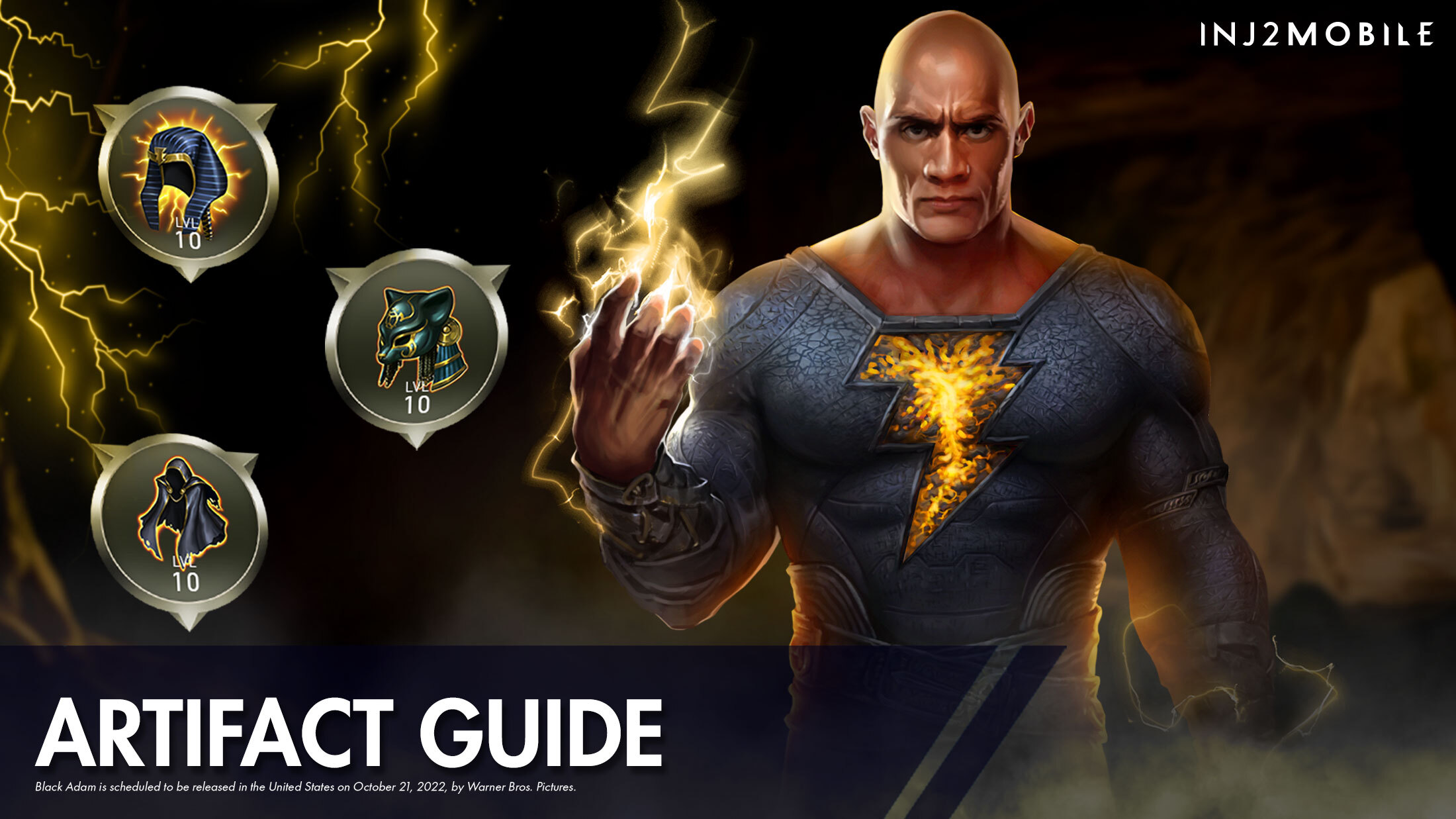 Artifacts are a whole new Universal Gear that can be used to customize and upgrade your Heroes. Each Hero has a 6th Gear slot to equip an Artifact for additional stat bonuses and unique passive bonuses. Artifacts can be equipped on any Hero but some grant additional bonuses when used with specific Heroes, Classes, or during special Solo Raid events.
Quick Navigation
Kahndaq Artifacts

Cryo Artifacts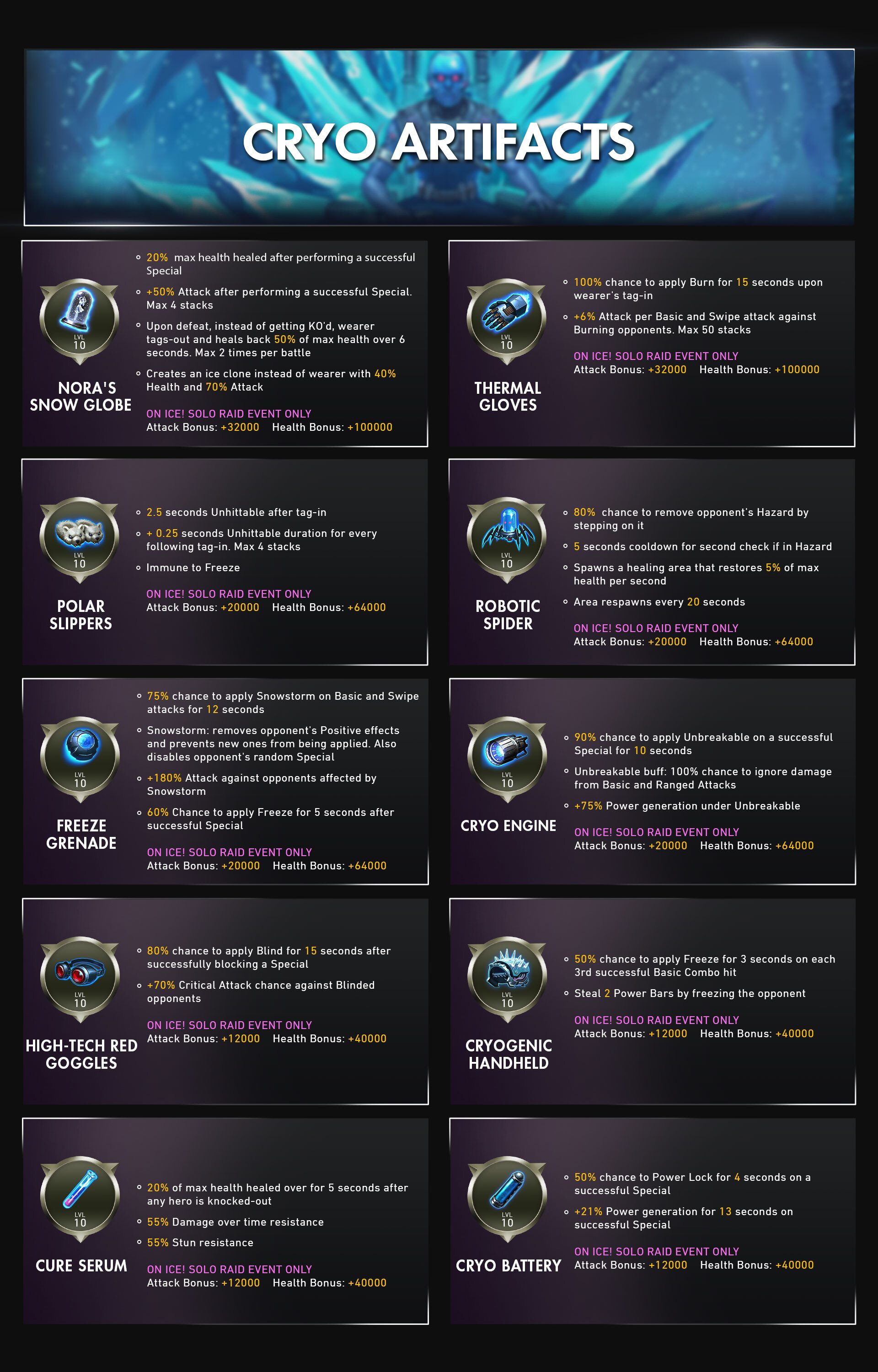 Arcane Artifacts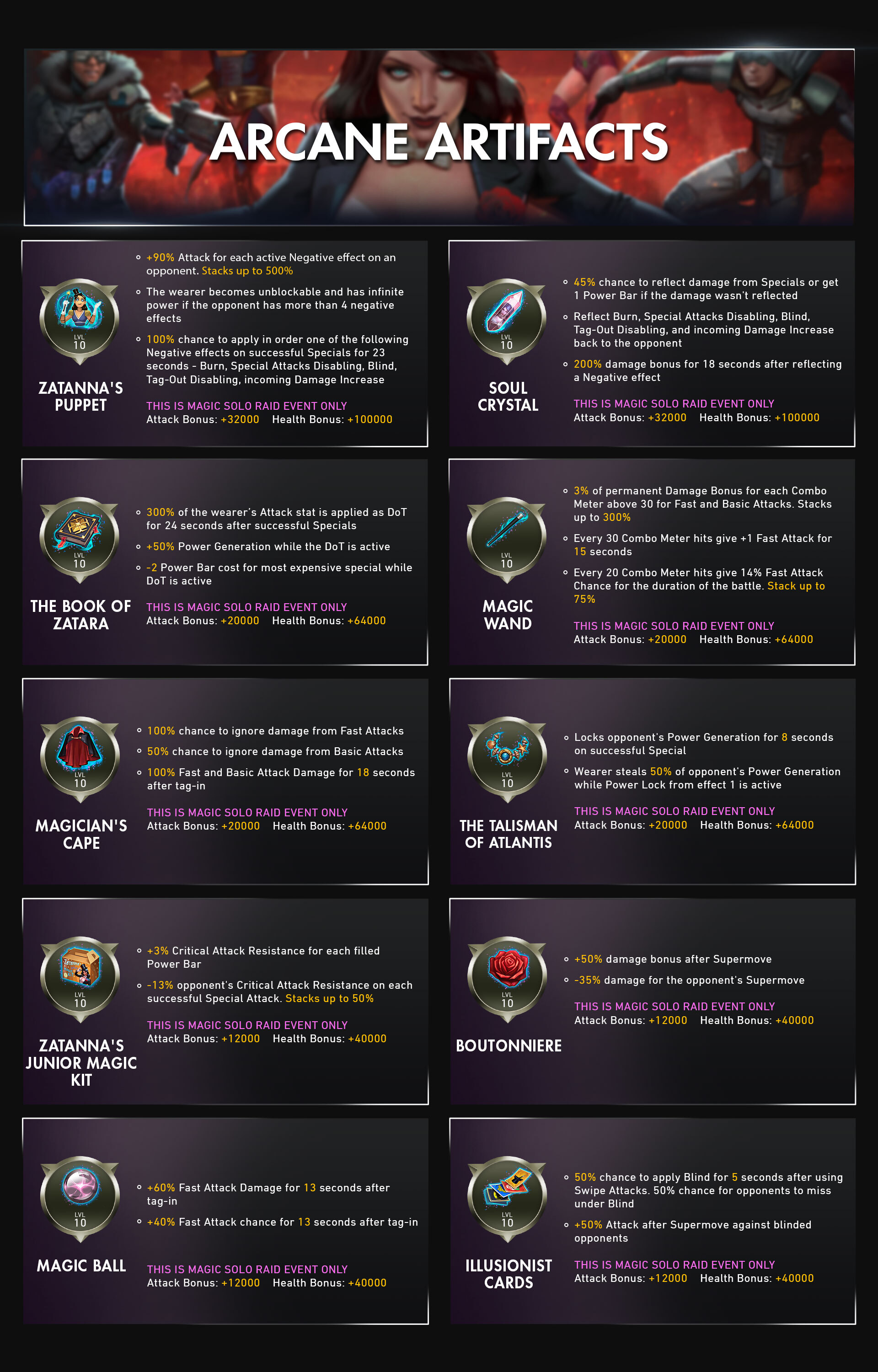 Dark Metal Artifacts

Promethium Artifacts
Power up your battles with the new Promethium Artifacts! Stun your enemies with Energy Lance, become unblockable with God Killer, and heal yourself with the Ikon Suit. Defeat The Last Contract bosses to earn the new Artifacts.
See the new Artifacts here!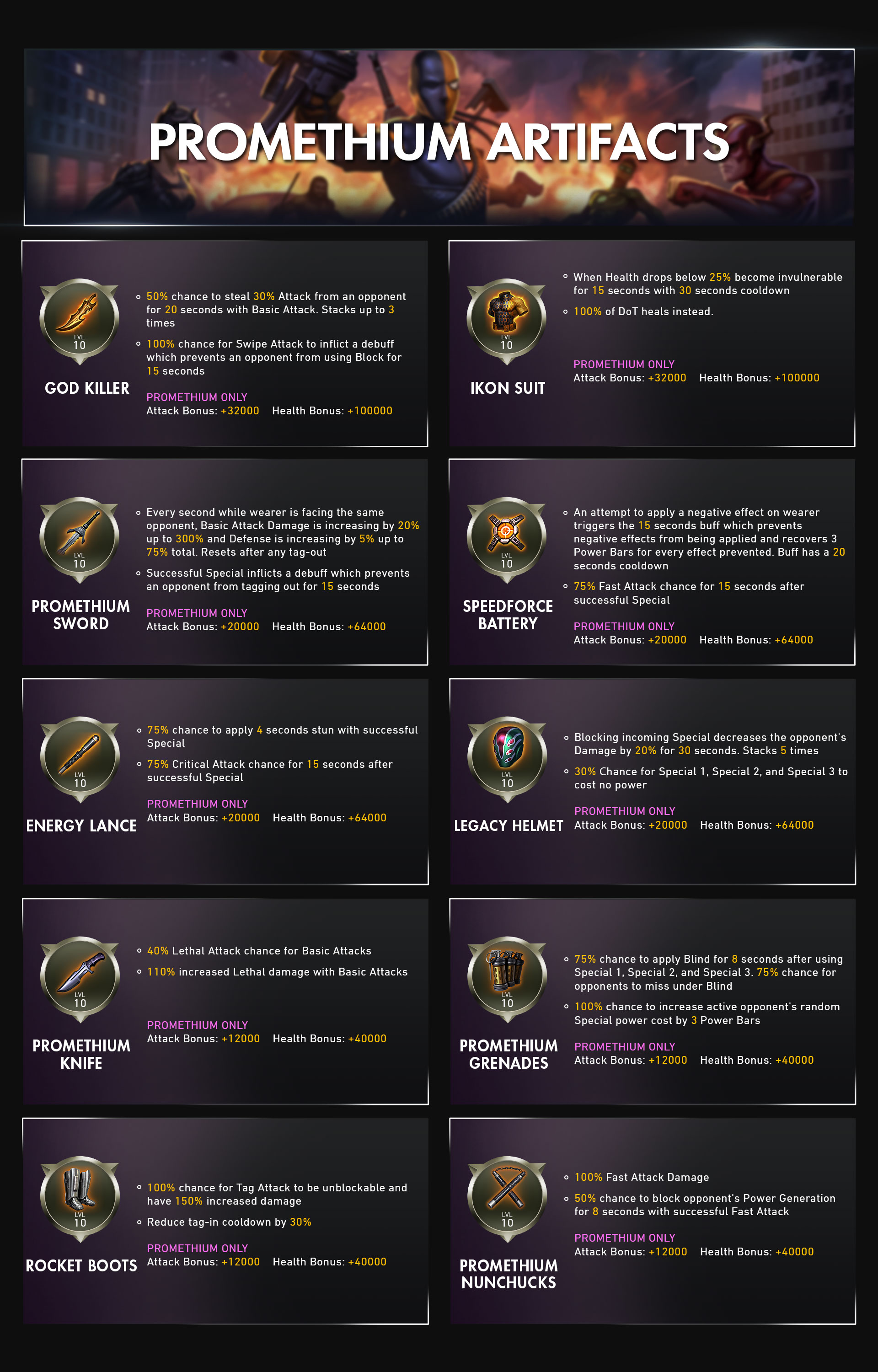 Chaos Artifacts
Use NEW CHAOS ARTIFACTS, like Trigon's Power Staff, to help you along the way! Clear the Advent of Chaos bosses to earn Raven's powerful Chakra Chaos Artifact to help her control the darker passions of her half-demonic soul. Plus, for the first time ever, you have a chance to earn Hero shards of the main boss, Raven, when you complete Normal and Heroic Solo Raid difficulties!

Kryptonite Artifacts
The time has come! Gather your most powerful Heroes and take down Boss Collector of Worlds Superman to save the Universe in the new Rise of Krypton: Solo Raid Event!
Kryptonite Artifacts can be upgraded using Kryptonite Artifact Fragments. This material can obtained from shattering Kryptonite Artifacts.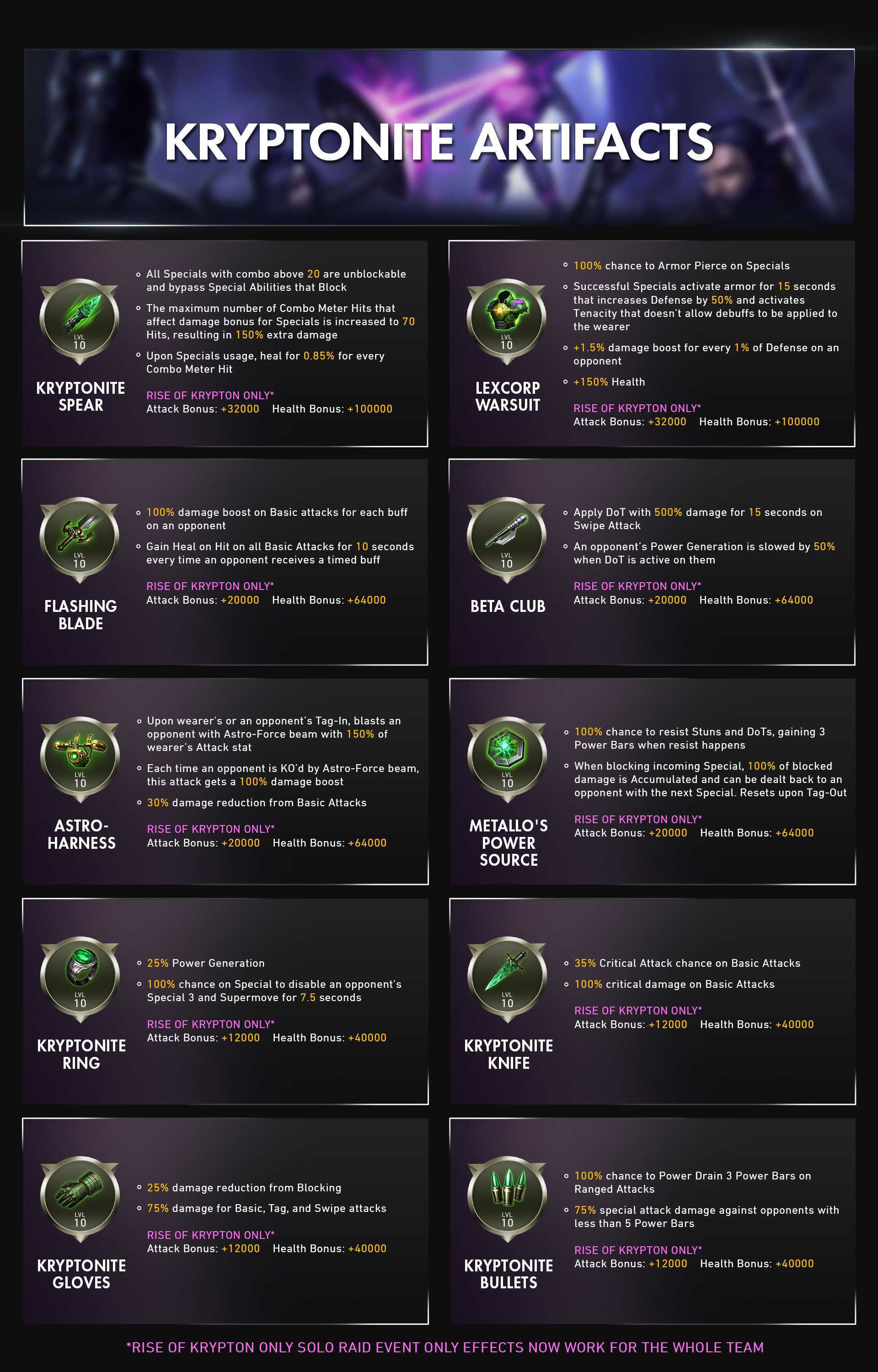 Apokolips Artifacts
The Solo Raid Event: Dawn of Apokolips introduces six new powerful Artifacts. This set of Apokolips Artifacts are specially crafted to help you defeat Dawn of Apokolips Bosses with unique game-changing abilities. Break your opponent's protective barrier or shield with the Radion Artifact, or suit up with the Entropy Aegis Artifact to survive the deadliest of attacks by limiting the amount of damage that can be taken in single blow. Defeat Boss Darkseid and master the art of teleportation with the all-powerful and event-exclusive Artifact: Father Box.
Apokolips Artifacts can be upgraded using a unique material called Apokolips Artifact Fragments. You can obtain this material from shattering Apokolips Artifacts.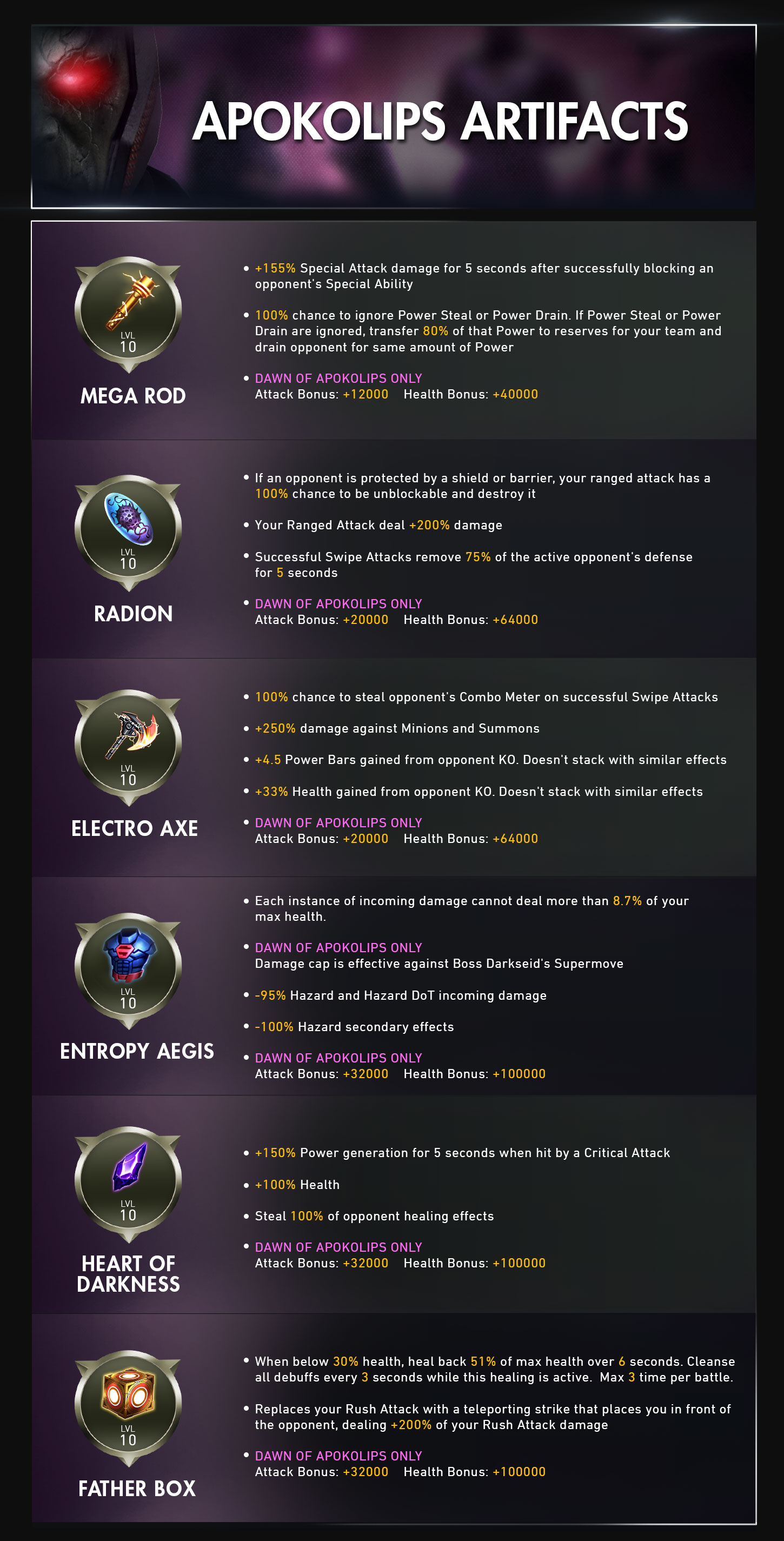 Azure Artifacts
Azure Artifacts are very rare but they can be earned through Raid Rewards. Raid Rewards for Raids 6 and 7 will give a chance to earn an Artifact but you will be guaranteed one Artifact when your League ranks at top 3 or top 5 of Raids 7 and 8! Artifacts can be upgraded like normal Gear, but use a material called Azure Artifact Fragments. The max Artifact level is 10. Earn Azure Artifact Fragments in Raids 5, 6, 7, or 8.
Here's a look at the effects of all ten Artifacts maxed out at level 10!
AMULET OF TECH
Effects:
-Gain a percentage in Health
-[Tech characters] Gain a percentage in Attack against Might Heroes
AMULET OF ARCANE
Effects:
-Additional percentage of Special attack Damage
-[Arcane Characters] Gain a percentage in Attack against Arcane Heroes
AMULET OF METAHUMAN
Effects:
-Increase all healing effects on self by a percentage and teammates by a percentage.
-[Metahuman Characters] Gain a percentage in Attack against Tech Heroes
AMULET OF MIGHT
Effects:
-Gain a percentage of Damage for Basic, Tag, and Swipe attacks
-[Might Characters] Gain a percentage in Attack against Agility Heroes
AMULET OF AGILITY
Effects:
-Plus a percentage DoT Damage
-[Agility Characters] Gain a percentage in Attack against Metahuman Heroes
Other Artifacts
ALL-BLADES
Effects:
-Gain a percentage in Attack on tag-in for a brief amount of time and inflict DoT on self, dealing 20% of current health in damage
-[Red Hood] Gain a percentage in Lethal Chance and reduces Supermove cost by 5
CLAW OF HORUS
Effects:
-Gain a percentage in Attack
-A percentage of chance to Stun on Swipe attack and Jump attacks.
COSMIC STAFF
Effects:
-Whenever losing greater than 10% of max Health from a single attack, gain a shield that blocks a percentage of all incoming damage for a short amount of time.
-While shield is active, reflect a percentage of damage from Special attacks
KRYPTONIAN REGENERATION MATRIX
Effects:
-Once per battle, revive with a percentage of health when knocked out
-[Superman] Gain a percentage of Attack when revived
NTH METAL ARMOR
Effects:
-Gain a percentage in Health
-Gain a small percentage in Attack for each percent of currently missing Health
-[Legendary Characters] A percentage of damage dealt to the active Hero is split between all teammates
Artifact/Gear Reforge
In Update 4.1 Artifacts gained the ability to be reforged for new stats. Similar to Gear Chance effects, you are able to roll on random effects for your Artifacts in addition to the base effect they already provide.
Reforging an Artifact will require Artifact Reforge Tokens. Artifact chance effects offer bonuses such as boosts to power generation or damage applied by special abilities.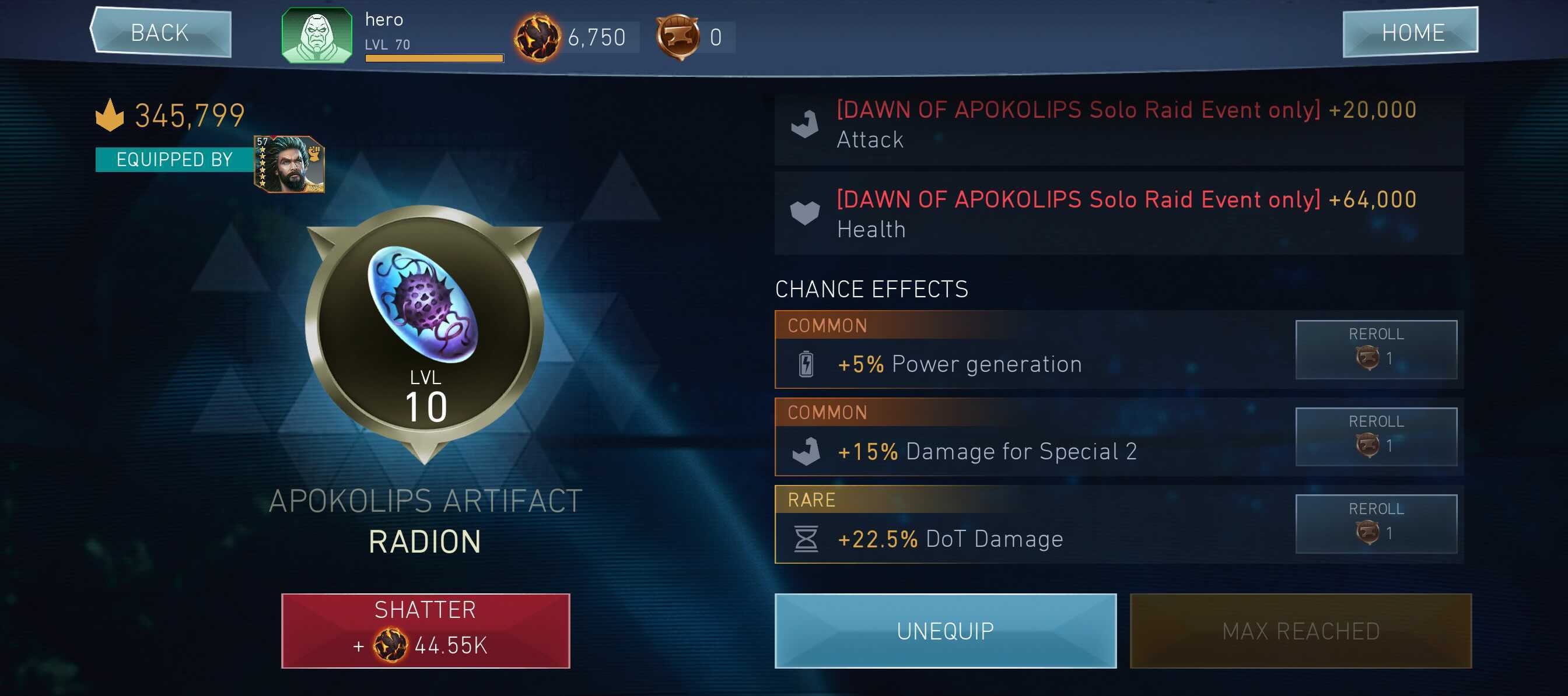 Check out our Injustice 2 Mobile gameplay guides:
Beginner Guide: http://go.wbgames.com/I2Mguide
Intermediate Guide: https://go.wbgames.com/I2Minter
Advanced Guide: https://go.wbgames.com/I2Madvanced
Champions Arena Guide: https://go.wbgames.com/ChampionArena