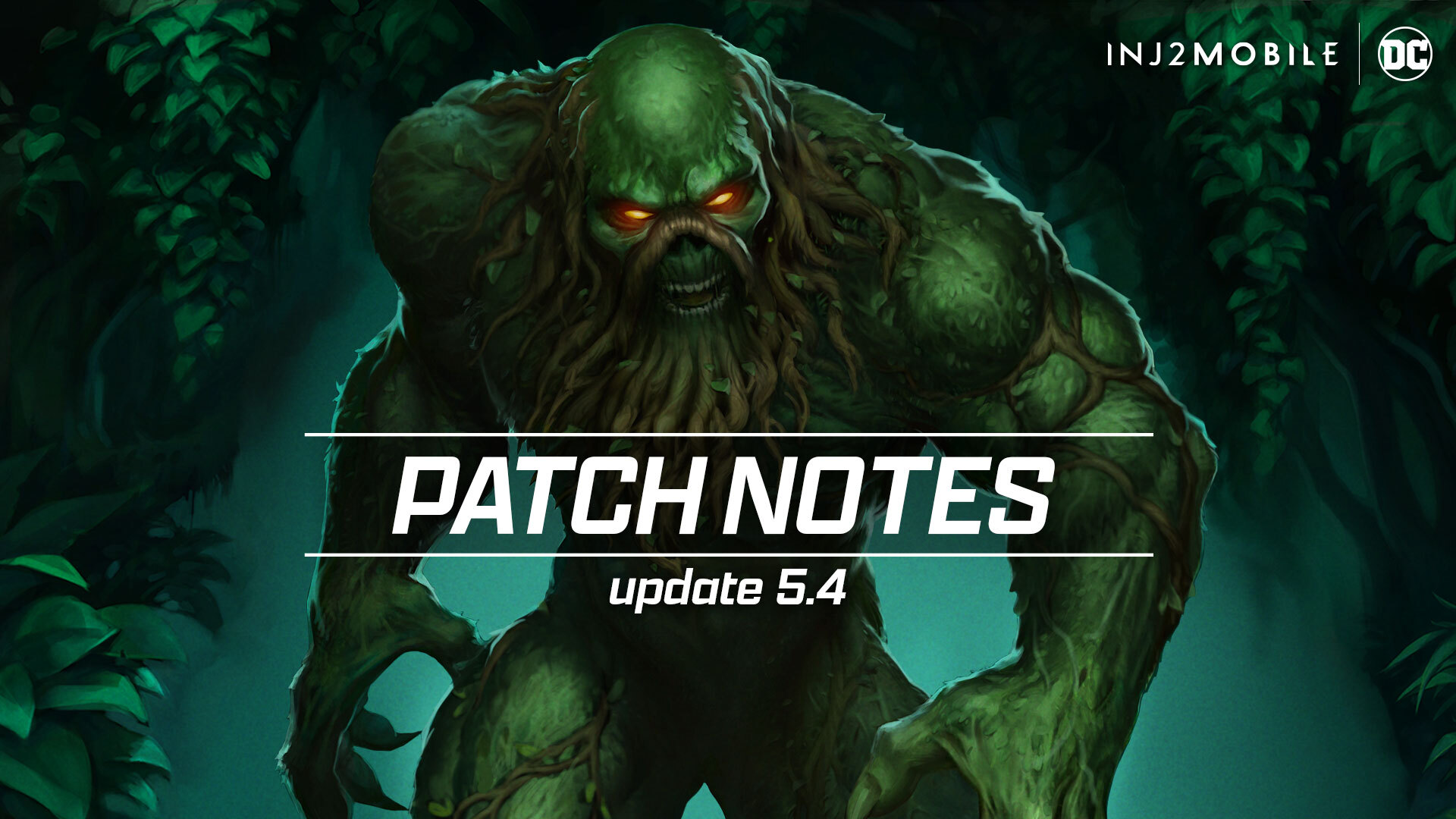 Table of Contents
Patch Notes – Update 5.4
NEW! ELDER SWAMP THING
Elder Swamp Thing from DC's Justice League Dark is now available in Injustice 2 Mobile! Defending Earth from supernatural threats, this new Gold character joins Zatanna as the second member of the Justice League Dark team. Elder Swamp Thing commands the power of nature. His Special Attacks can infect his enemies with deadly spores, poisonous spikes, and vicious vines. He can also heal his teammates and protect members of the Justice League Dark team with a shield of nature. Power up your Justice League Dark team with Elder Swamp Thing today!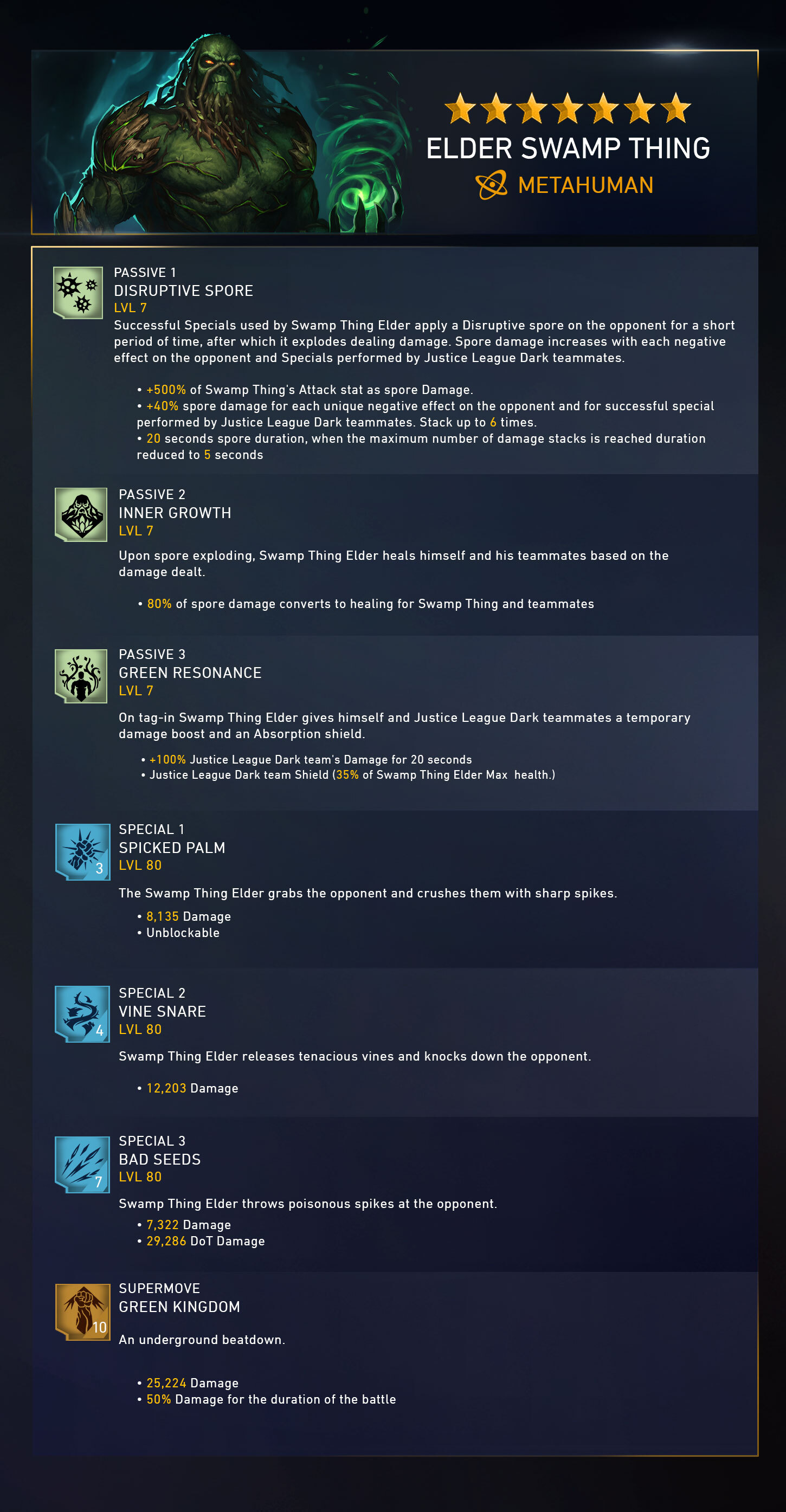 INJUSTICE PASS SEASON 4 – DARK JUSTICE PASS
Injustice Pass Season 4 is available now for a limited time only! Get Early Access to Elder Swamp Thing, exclusively through the new Dark Justice Pass. Earn additional rewards like Gems, Orbs, and Credits by completing tiers of objectives each week. Get the new Dark Justice Pass today!
QUALITY OF LIFE IMPROVEMENTS
New and improved Daily Reward System! We have improved the UI for the Daily Rewards menu and added a new option that allows you to make up missed days by watching Ads so you can collect rewards from the days that you missed. Plus, we've made the rewards even better. Daily rewards now include King of Atlantis Aquaman Hero shards!
New Limited Time Only Specials! Don't miss upcoming special events where you can earn more XP for completing Daily Objectives or battling through the Campaign Mode!
MORE BUGS CRUSHED
Character
Fixed a bug that allowed Deathstroke and Batwoman The Drowned to do infinite combos without interruption with basic and swipe attacks
Fixed a bug where Batwoman The Drowned's opponents could only perform jump attacks to avoid Hazard from her Ultimate
Fixed a bug that caused Batwoman The Drowned's Crisis Energy Bar to be reduced after resurrection from Justice League Aquaman's Supermove even if there were no Metal Characters on her team
Fixed a bug that allowed Zatanna to apply a debuff on Black Adam with Power Cost
Fixed a bug that caused Jokerized Batarangs to apply bonus damage to DOTs from upgraded Batwoman The Drowned specials
Fixed a bug with Batwoman The Drowned's Special 2 that allowed interruption while the character is in the air
Fixed a bug with Batwoman The Drowned's Ultimate Hazard that allowed it to be dispelled by Robotic Spider
Fixed a bug that prevented the reset of Zatanna's Passive 2 Damage buffs after dispel
Fixed a bug that prevented Zatanna's teammates from getting her 'Reflect Damage' debuff
Fixed Classic Superman's Passive that allowed him to steal power bars even if his Special 2 was blocked or unsuccessful
Fixed an animation issue with Suicide Squad Enchantress's rush attacks
Fixed a bug that caused Zatanna to be vulnerable during her tag-in attack
Fixed a bug with Zatanna's ability reset and No Power Cost effects
Fixed a bug that allowed Batwoman The Drowned's Metal team Buff to remain active after Raven's dispelling
Injustice Pass
The Drowned Pass – Rules tab can now scroll down
Artifacts
Fixed LexCorp Warsuit to correctly allow protection from DoT
Fixed a bug that prevented Heart of Darkness from stealing heal from Nora's Snow Globe second effect
Other
Button design has been improved, and new animation has been added
As always, thank you for playing Injustice 2 Mobile!