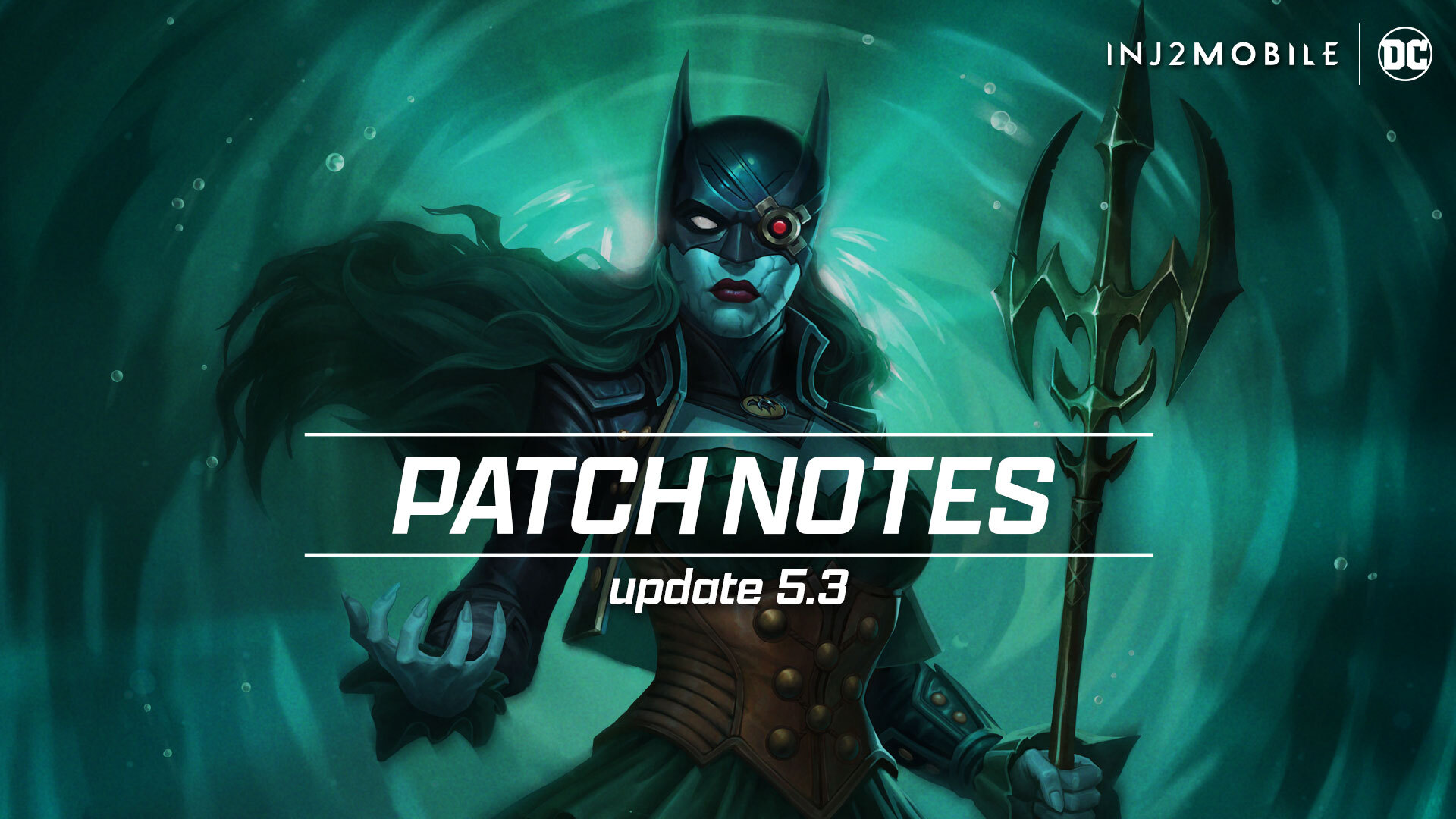 PATCH NOTES – UPDATE 5.3
Table of Contents
NEW! BATWOMAN THE DROWNED
Batwoman The Drowned from DC's Dark Nights: Metal series is now available Injustice 2 Mobile! From the depths of Earth-11, this new Gold character joins Batman Who Laughs on the Metal team, specializing in Debuffs and Damage Over Time. She uses Dead Water Infection to generate Crisis Energy and weaken her opponents. Once her Crisis Energy is full, The Drowned activates her devastating hydrokinetic powers to resurrect Metal teammates and flood an entire level with her Ultimate Hydrokinesis! Power up your Metal team with Batwoman The Drowned today.
INJUSTICE PASS SEASON 3 – DROWNED PASS
Injustice Pass Season 3 is available now for a limited time only! Get Early Access to Batwoman The Drowned, exclusively through the new Drowned Pass. Earn additional rewards like Gems, Orbs, and Credits by completing tiers of objectives each week. Get the new Drowned Pass today!
QUALITY OF LIFE IMPROVEMENTS
Use the new 'All Donations' feature to view Raid funding from all members of your League!
Collect multiple XP Capsules at once with the new League Store slider functionality!
BUG FIXES
Characters

Freeze - Fixed the Icon and Visual FX for Speedforce Battery effect 1
Silver Banshee – Fixed an incorrect bonus for Special 3 damage attack in the UI menu
Hush – Fixed a bug that allowed Hush's Special 2 to be Interrupted
The Batman Who Laughs – Fixed a Passive bug which allowed interrupted opponent's Specials if they were performed by The Batman Who Laughs
Fixed a bug that caused Silver Banshee's Special 3 to be replaced by the blocking ability from Candle of Neron
Fixed a bug that allowed The Batman Who Laugh's interruption to gain Crisis Energy if it interrupted the opponent's Special at the last moment
Hush –Fixed a bug that allowed players to get a buff twice from the same stance if Hush was frozen
Hush – Fixed a bug that allowed Hush to have his Passive abilities when cloned by Sub-Zero
Fixed a bug that allowed Hush's Passive 1 to be stacked more than 4 times after Supermove
Fixed a bug which caused Hush's Passive 1 to not work properly after Supermove while Nemesis mark was active
Fixed a bug with Promethium Grenade's feature 2 which increased Hush's Special 2 power cost incorrectly
Fixed a bug that caused Armor-pierce attacks to not be resisted by Captain Cold or his Multiverse teammates
Added Information about Batman Who Laugh's first passive activation related to Batwoman the Drowned

Raids

Solo Raid Event: On Ice!

Added Enhanced modifier at Boss Poison Ivy in 6 and 7 Heroic
Fixed Attack value of Red Hood Sub-Boss
FATIGUE modifier in Sub-Boss Aquaman's battle now drains power from Special 2 only
Fixed attack value of Sub-Boss Batman
Boss Sub-Zero – Fixed a bug that allowed players to disable Sub-Boss' specials
Fixed stats value of Sub-Boss Multiverse Black Lightning
Sub-Boss Batman – Corrected time value of Enhanced modifier
Added Modifier "Deadly" on Boss's Mr. Freeze modifiers
Fixed a bug that caused modifier 'Bleed' to not work on difficulties 6-7 in battle with Sub-Boss Batwoman
Fixed battle rewards for On Ice Solo Raid
Fixed bug with incorrect work of ANTI-TECH FIELD modifier
Fixed game crashes on quitting a fight if a Solo Raid season ends during a battle
Fixed a bug that caused Mr. Freeze's Special 2 to not apply Freeze to Boss Brainiac
Fixed a bug where Mr. Freeze's Special 2 could be applied to the opponent's minions if they were frozen before Special 2

Injustice Pass

Fixed incorrect totals for "Successfully perform Special 1 attack" objective
Fixed a bug that did not count Special 1 in Objectives if the match ended with it
Fixed a bug that caused incorrect totals in objective "Successfully reflect or block any Special attack"

Artifacts

Fixed a bug witch allowed The Batman Who Laughs to have infinity Darkest Knight when equipped with Nora's Snow Globe
Astro-Harness – Fixed an unusual gameplay warning in Champions Arena while using Astro-Harness
Nora's Snow Globe – Fixed game crashes after performing second Brainiac's Supermove against Ice Clone in League Raid
Fixed a bug which caused some characters to drop the opponent's attack below zero
Fixed incorrect cost for Hush's Special 2 if Hero has Black Kryptonite

League

League Store - Player now can buy multiple XP Capsules at once
League Store - Gears now groups by character
League UI - Player now can inspect League's Top Donators list
League UI - Player now can inspect current raid's donators list

Champions Arena

Players will earn defensive points from the same attacker only a limited amount of times per Champions Arena season. The limit depends on a Champions Arena tier

Privacy

CCPA info is now present in the Settings menu
As always, thank you for playing Injustice 2 Mobile!