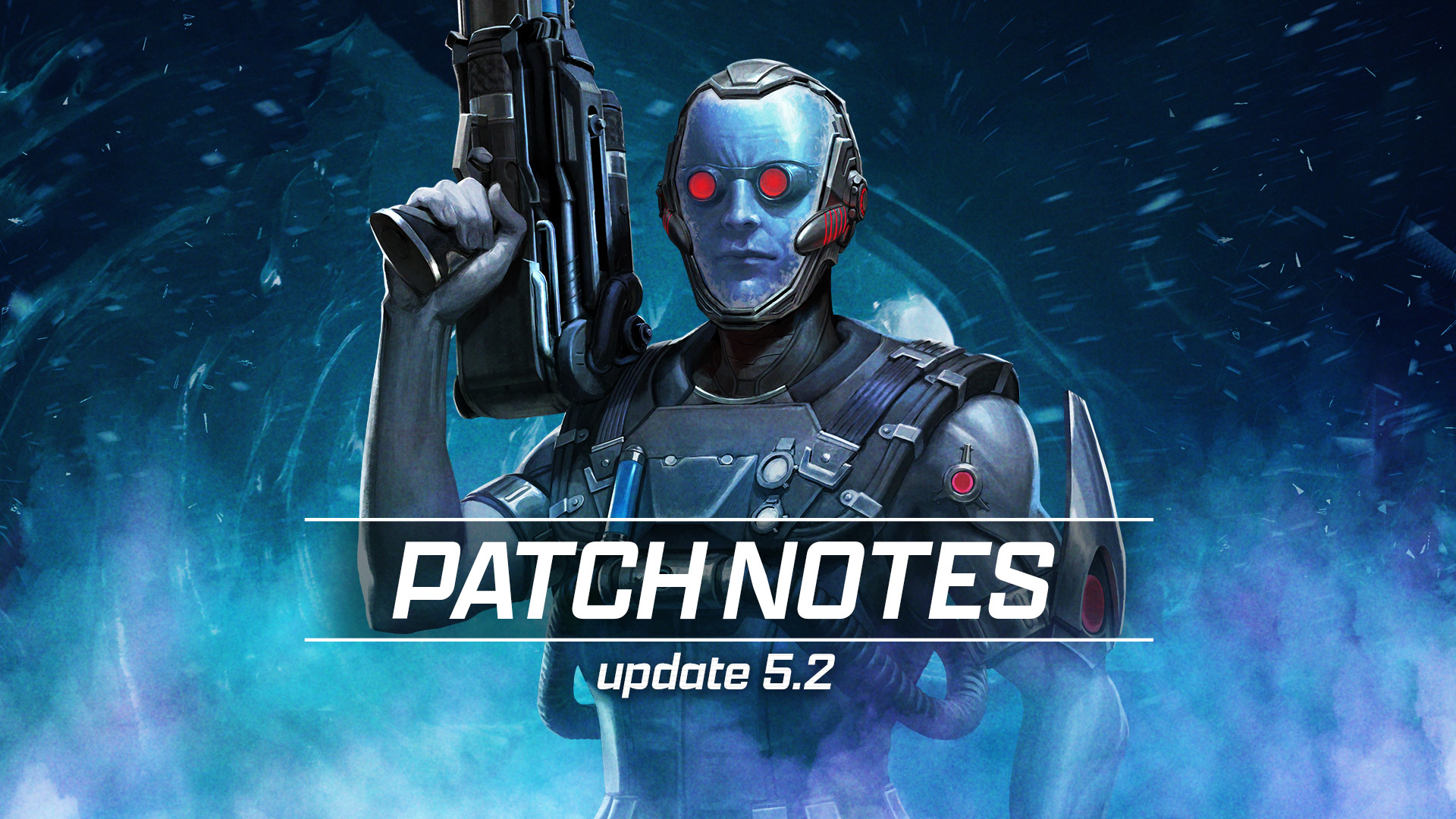 Special Note for Android Players:
Unfortunately, we discovered an issue with the game login process for Android that will require some players to complete a workaround when re-entering the game. We are sorry for the inconvenience. Please know your account progress is not lost, but you will need to follow these steps to retrieve it:
Complete the tutorial

Go to Settings

Select Google Play

Select your old account

Press continue

Make sure the correct account is selected on confirmation

Press Link
At this point, the latest 5.2 update will be available. Thank you for your understanding.
NEW LEGENDARY HERO: MR. FREEZE
An icy chill has settled in over Injustice 2 Mobile. Legendary Mr. Freeze has joined the roster in time for the holiday season! He'll do just about anything to bring back his wife, Nora. Mr. Freeze deals additional damage against Frozen opponents, increasing it when his team spends Power Bars. Also, Mr. Freeze and his Legendary teammates can hit opponents' multiple times before breaking Freeze, inflicting Frostbite right after that. Mr. Freeze also creates a Frost Field that increases his Power generation and Freezes opponents.
NEW SOLO RAID EVENT: ON ICE!
The latest Solo Raid Event, On Ice, has begun! Mr. Freeze decided to take his desperation into action… Your assistance is needed to help save Gotham before he freezes the city and everyone in it! Boss Mr. Freeze gathered some old acquaintances and awakened his army from cryostasis to steal resources to cure his beloved wife, Nora. His reckless plan is putting many lives at risk. Stop him and his Cyro Army before it's too late. Play now for a chance to earn a 3-Star Mr. Freeze as a completion reward!
NEW! CRYO ARTIFACTS
The new Cryo Artifacts will help you take down Mr. Freeze and his team of Cryo Bosses in the On Ice Event. Become immune to Freeze when you put on the new Polar Bear Slippers or apply Snowstorm when you equip the new Freeze Grenade. Bundle up and prepare for an ice-cold battle!
BUG FIXES & IMPROVEMENTS
Major
Fixed incorrect scrolling of the list of artifacts when artifacts on the left side could not be displayed.
Fixed a bug when some objectives (win a match in under 2 minutes/without using blocks/your character must have more than 50% health) in Injustice Pass could be completed using Sim Chips.
Fixed a bug when some inbox messages were not localized.
Fixed a bug when in Injustice Pass when Button Claim Rewards became active if a player bought premium at level 0.
Fixed a bug in Warrior Queen Wonder Woman Challenge when the opponent's team had increased power generation.
Character
Fixed a bug with Silver Banshee's Special 3 "Sonic Boom". It now gives the proper damage increase when leveling up from 79 to 80
Deathstroke animations were improved.
Fixed bug when Deathstroke's jump didn't evade projectile from ranged attack.
Fixed incorrect "Freeze" icon buff after Sub- Zero used third special in a match with Classic Wonder Woman.
Fixed bug when Batman Who Laughs dealt increased percent damage if equipped with Jokerized Batarangs to the opponent under "Poison" debuff from artifact.
Fixed bug when Batman Who Laughs could use his Specials in Darkest Knight form after he was healed by artifact The Father Box.
Fixed bug when Batman Who Laughs could skip phase 2 in battle with League Raid final boss Brainiac.
Fixed bug when Batman Who Laughs could bypass percentage damage cap on the first phase of league Raid final boss Brainiac.
Fixed a bug when John Stewart Green Lantern passive didn't protect from hazard effects from Blue Beetle and Batman Who Laughs bosses in the Dark Nights Solo Raid.
Fixed bug when Batman Who Laughs could not use crisis energy if he didn't have enough Power.
Fixed bug when Batman Who Laughs could use his Special abilities 'Darkest Knight' form after transferred in the next phase in battle with League Raid final boss Brainiac.
Fixed a bug when Classic Wonder Woman's Blind effect was applied to the next opponent when Classic Wonder Woman knocked out the current opponent with second special.
Fixed incorrect attack bonus of Classic Wonder Woman's Passive 2 on 1st level.
Artifact
Fixed bug when Beta Club DoT damage depends on percent damage of Batman Who Laughs in his Darkest Knight form.
Fixed bug where Entropy Aegis didn't give resistance against Boss Batman Who Laughs Hazard debuff "Madness".
Fixed bug when Black Kryptonite's third Effect didn't save combo meter for specials taunted by Batman Who Laughs.
Fixed bug when Hand of Zatanna's Debuff "CHAINED" didn't apply when a special force opponent to tag-out.
Fixed bug when Jokerized Batarangs didn't apply "Poison" debuff on any next hero if "Poison" already has been active on another the opponent.
Fixed bug when Jokerized Venom Debuff didn't apply to an active character if they were revived.
Fixed bug when Hand of Zatana healing effect from Father Box artifact didn't start if 'Chained' effect was cleansed.
Fixed Crush that could happen when Hero with Hand of Zatanna artifact used specials several times in a row.
Changed effect's description of Ikon Suit where indicated "invulnerable" effect instead of "Immortal".
LexCorp Warsuit artifact's description has been corrected to reflect that the artifact's effect also protects from damage over time
Solo Raids
Fixed a bug when Batman Who Laugh debuff "Madness" didn't apply to hero if the boss has debuff "Chained" from artifact "Hand of Zatanna".
Fixed a bug when Boss Superman damaged himself with the first special's hazard.
Fixed a bug when REINFORCED modifier didn't work when the player's hero affected by Hazard damage.
Fixed a bug when Boss Atrocitus didn't apply power drain after successful specials in Dark Nights Solo Raid.
Fixed a bug when some bosses had blocked third special.
Fixed a bug when modifier "Fatigue" drains power bars on the unhittable opponent.
Fixed a bug when heroes were not affected by Boss Harley Quinn hazards when partly standing on them in Rise of Krypton Solo Raid.
Other
The number of ad videos per day increased from 5 to 10.
Cheat detection parameters were corrected to decrease the number of false triggers in League Raids.
Notification about claimable rewards was added on the Injustice Pass icon in the main menu.
As always, thank you for playing Injustice 2 Mobile!