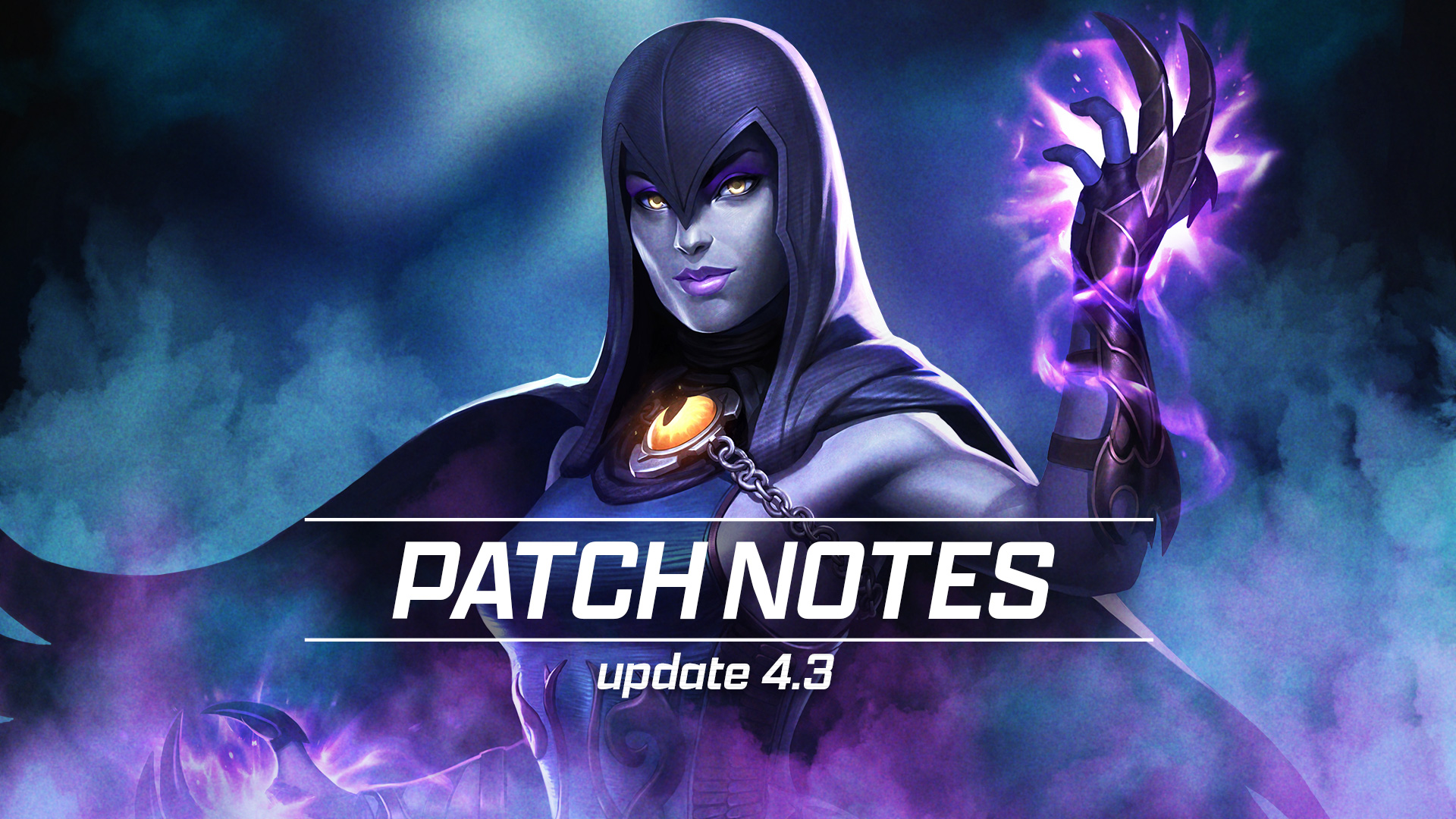 Update 4.3 Patch Notes
NEW HERO! THE DAUGHTER OF DARKNESS
Raven, the Daughter of Darkness, has joined the cast of Injustice 2 Mobile as the newest Legendary Hero! Born to a human mother and a demonic father, Raven tries to master her emotions, but her father's influence is sometimes too powerful. Voted as the most wanted character by the community in 2020, Injustice 2 Mobile's LEGENDARY RAVEN unleashes her dark side, using her demonic nature to fight off her foe. She's a pure destructive force in many modes, but especially in Raids due to her ability inflict Darkness onto her opponents, which increases all incoming damage and removes all their buffs! Raven can also heal herself using her Arcane powers when her health drops too low. Add Legendary Raven to your roster today!

NEW SOLO RAID! ADVENT OF CHAOS
Introducing the newest Solo Raid Event – ADVENT OF CHAOS! Possessed by her demonic father Trigon, Boss Raven, enslaves Starfire, Nightwing, Cyborg and other heroes to fight by her side. Save Raven from the grasp of her father, by vanquishing her and her sub-bosses in this new limited time only event! Use NEW CHAOS ARTIFACTS, like Trigon's Power Staff, to help you along the way! Clear the Advent of Chaos bosses to earn Raven's powerful Chakra Chaos Artifact to help her control the darker passions of her half-demonic soul. Plus, for the first time ever, you have a chance to earn Hero shards of the main boss, Raven, when you complete Normal and Heroic Solo Raid difficulties! Get ready heroes, the Advent of Chaos Solo Raid event will begin soon.
CHAMPIONS ARENA ADDITIONS!
It's time to fight back! Check out your Champions Arena Battle Log to get revenge against opponents who have previously defeated your Defensive team! Make sure to step up your Defensive team because for the first time ever you'll earn points each time your team successfully defeats your opponent! Champions Arena is no longer in Beta.
MORE BUGS CRUSHED
We've made many improvements and have crushed more bugs in this update, including iPhone 12 optimizations and display improvements of Hero Chest reward probabilities and available contents!