NEW Legendary Ruler of Kahndaq Black Adam
Power born from rage! Black Adam based on DC's upcoming film starring Dwayne Johnson is now available in the Injustice 2 Mobile. Legendary Ruler of Kahndaq Black Adam is a powerful Damage Dealer who specializes in attacks against opponents with casting abilities.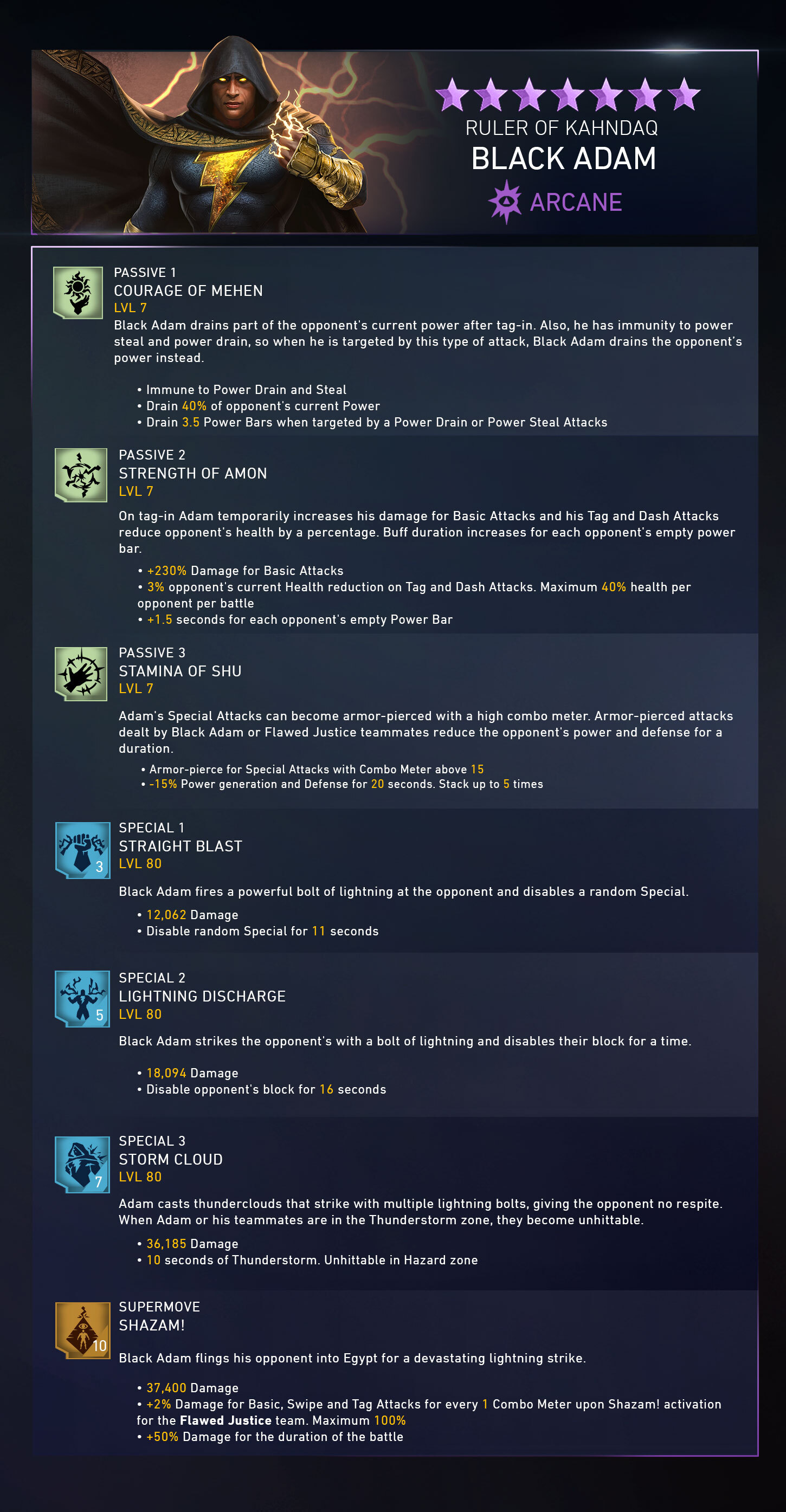 NEW Solo Raid Event: Ancient Judgment
Ruler of Kahndaq Black Adam has infiltrated the Justice Society of America and clouded their minds. Defeat Ruler of Kahndaq Black Adam and bring the heroes back!
NEW Kahndaq Artifacts
Equip your Heroes with the new Kahndaq Artifacts to help defeat the Ancient Judgement Solo Raid Bosses and earn rewards along the way!
NEW League Difficulties
Two new difficulty tiers have been added to League Raids for a more intense challenge!
QUALITY OF LIFE
In this update, we made technical improvements to animations and visuals of the game interface and added Special Event Calendars - now players can get rewards in two and more calendars during special events and holidays.
BUG FIXES AND IMPROVEMENTS
CHARACTERS
Decreased duration of the Elder Swamp Thing Passive 2 from 30 to 20 seconds
Fixed Elder Swamp Thing Damage from SP2, now it deals reduced damage for characters in block
Fixed Elder Swamp Thing Damage from Passive 1 spores, while using Ace of Winchesters, when opponent's health is lower than 50%
Fixed Elder Swamp Thing Damage from Passive 1 spores under Legacy Helmet debuff
Fixed Elder Swamp Thing spores were able to apply with Special 1 on unhittable opponents
Fixed an issue, when Martian Manhunter's passive wasn't increasing time for Elder Swamp Thing Passive 1 spores
Fixed an issue with Multiverse buffs timer for Batwoman
Fixed an issue with Batwoman The Drowned Ultimate Hazard, it wasn't shown instantly after skipping Supermove
Fixed an issue with incorrect Classic Batman Special 2 effect 2 icon
Fixed an issue with Hush's nemesis affected by Martian Manhunter's Passive 2
LEAGUE RAIDS
Fixed an issue with HARMONUIS modifier in League Raids
Fixed a crash, when selecting League members
SOLO RAIDS
Fixed an issue with Crash in the Supergirl battle in This is Magic Solo Raid
Fixed an issue with DEADLY modifier in Black Canary battle in This is Magic Solo Raid
Fixed an issue when Captain Cold in On Ice! Solo Raid negated damage from Special 2 instead of Special 1
Fixed a bunch of issues related to incorrect descriptions for On Ice Solo Raid
Fixed an issue with IRON-SKINNED modifier duplicate for Batman and Superman in Dawn of Apokolips Solo Raid
EQUIPMENT
Fixed an issue with triggering Ikon Suit effect after transitioning to the next phase in League Raids
Fixed a bunch of issues with Arcane artifacts decimal values
UX/UI
UI - Updated buttons animation (design and animation speed)
UI - Updated Daily Rewards UI to support new Event Calendars introduction
League Raid UI - Updated the Raid Difficulty Selection screen. Now players can explore two new difficulties in raids - 9-10 tiers.
Player's Profile Menu - Players can now view more than one Daily Reward calendar using tabs
Fixed an issue when it is impossible to upgrade ability in some cases
Fixed an issue with tutorial hand hidden under other interfaces
Fixed an issue with broken Credits currency pop-up
OTHER
Fixed an issue with double XP for Limited Time Events