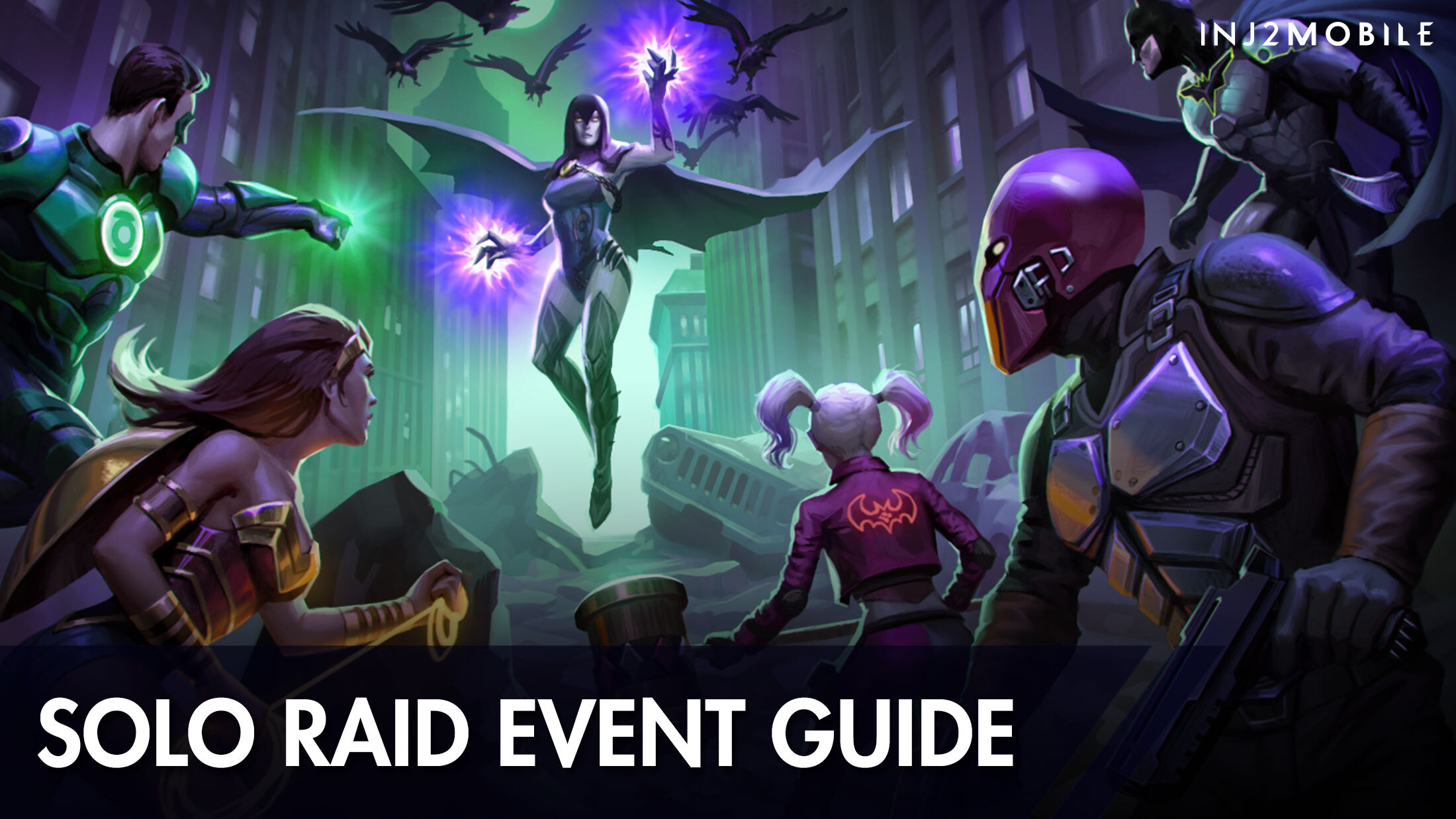 Table of Contents
NEW! ADVENT OF CHAOS: SOLO RAID EVENT
Other Solo Raid Artifact Rewards
Introduction to Solo Raids
Solo Raids are limited-time events where players fight through rounds of Raid bosses to earn exclusive new rewards in Injustice 2 Mobile. You can participate by selecting the Solo Raid tile (with the art shown above) from the home screen while the event is active.
NEW! ADVENT OF CHAOS: SOLO RAID EVENT
Introducing the newest Solo Raid Event – ADVENT OF CHAOS! Possessed by her demonic father Trigon, Boss Raven, enslaves Starfire, Nightwing, Cyborg and other heroes to fight by her side. Save Raven from the grasp of her father, by vanquishing her and her sub-bosses in this new limited time only event!
Use NEW CHAOS ARTIFACTS, like Trigon's Power Staff, to help you along the way! Clear the Advent of Chaos bosses to earn Raven's powerful Chakra Chaos Artifact to help her control the darker passions of her half-demonic soul. Plus, for the first time ever, you have a chance to earn Hero shards of the main boss, Raven, when you complete Normal and Heroic Solo Raid difficulties! Get ready heroes, the Advent of Chaos Solo Raid event will begin soon.
The Rules
When a player's account reaches level 20, the Solo Raid mode is unlocked. Progression is similar to group Raids that you would participate in through Leagues where there are 4 sub-bosses and one main boss. Unlike League Raids, credits are not required to start. There are 5 Solo Raid levels, each with their own sub-bosses and main boss that increase in difficulty with each level.
Unlock Requirements
Level 1 - Available to all when Solo Raids are unlocked

Level 2 - Available after defeating (4) Solo Raid Bosses or Sub-Bosses

Level 3 - Available after defeating (8) Solo Raid Bosses or Sub-Bosses

Level 4 - Available after defeating (12) Solo Raid Bosses or Sub-Bosses

Level 5 - Available after defeating (20) Solo Raid Bosses or Sub-Bosses and all previous levels.
Solo Raid Energy
Players receive 6 attempts per day, with 3 attempts updating every 12 hours.
Heroic Mode
Heroes who complete all 5 levels in the Normal mode will unlock a new difficulty tier known as "Heroic Mode". In this mode, you can face off against all previously defeated bosses, but their health has been reset and they receive attack and health bonuses that increase with each completion.
Rewards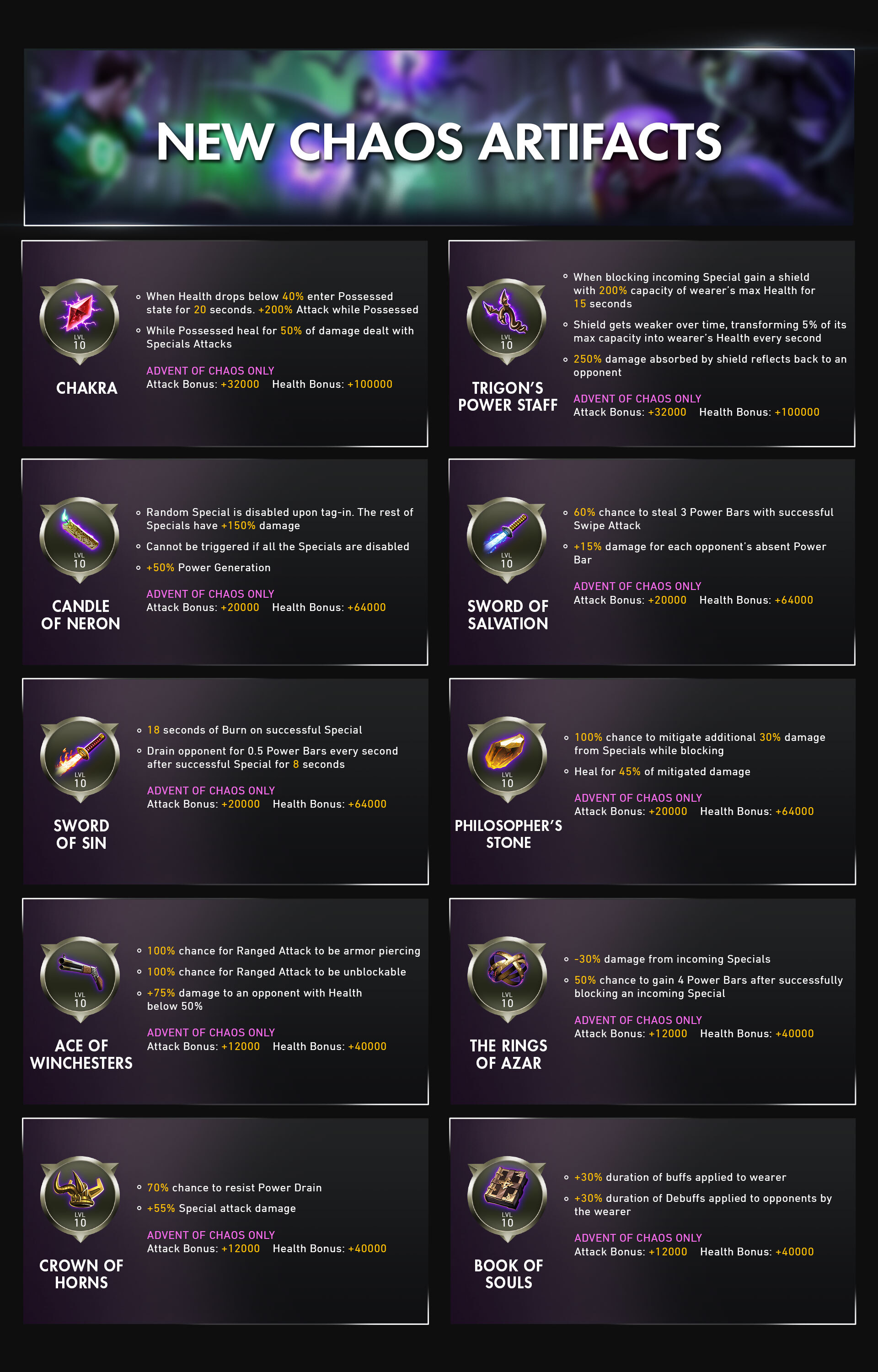 Other Solo Raid Artifact Rewards
Learn more about Artifacts you can obtain from past Solo Raid Events here.
Check out our Injustice 2 Mobile gameplay guides:
Beginner Guide: http://go.wbgames.com/I2Mguide
Intermediate Guide: https://go.wbgames.com/I2Minter
Advanced Guide: https://go.wbgames.com/I2Madvanced
Champions Arena Guide: https://go.wbgames.com/ChampionArena
COMMUNITY

You can also stay up to date on the latest news and updates from the game team through official social media channels:
Still have a question? You can submit your question here. You can also update and track your ticket as well.