Home is calling and it's time to take your rightful place as king of Injustice 2 Mobile! In this guide, we're going to cover building your heroes to get the most out of them during battles, with a special eye on the true king of Atlantis!
HERO PROGRESSION
Here is the character screen you see when you select a Hero from your roster.  Above, you'll see many ways in which you can progress your heroes.

Star Ratings
Promote each of your heroes by collecting Hero Shards. Below, you'll see the required shards to reach each Star Rating, and the cumulative shards needed for that rating. Silver heroes will primarily unlock at 1-2 Stars. Most Gold Heroes will unlock after obtaining 160 Hero Shards, but there are some Gold heroes that unlock at 2-Stars with 60 Hero Shards. Legendary Heroes (e.g. Arkham Knight Batman) are unlocked with a 4-Star rating. Orbs are required* for reaching a 6-Star Rating, and the specific Orb needed will vary per hero. You can obtain Orbs from completing Raids.

Abilities
You may think you already know how to swim, but you're not even close. Each hero has 3 Abilities that you can upgrade and 1 Passive. Passive abilities are constant and may have different requirements to utilize. You can increase your Passive with each Star-rating your hero reaches. You can only progress your ability levels as high as the current level of the character. The final slot in your ability list is for your Supermove, which increases automatically with each star-rating promotion.
King of Atlantis Aquaman Abilities

Special 1: Seven Seas Stab
Aquaman launches a multi-trident attack
Special 2: Shark Summon 
Summons a vicious predator from the deep to attack an opponent
Special 3: Wrath of King Atlan
In addition to standard Special Attack damage, this attack reduces the opponent's health by a percentage (maximum 3 times per battle). Health reduction is not affected by Critical, Lethal, or damage buffs. Health reduction ignores Defense but can be affected by Blocking or passives.
Talents
Talents will provide stat-boosts to various attributes of your hero. You can obtain up to 6 slots of Talents per hero with each unlocking when they reach a new star-rating. Talents can be anything from resistances to types of damage, critical and lethal damage, chance boosts, and more. After the initial unlock for 5,000 Credits, you can try your luck rolling for a different Talent. You'll receive one free roll per hero each day, with each roll after costing 7,500 Credits.

Stats
The Stats menu will provide you with a larger breakdown of each individual stat for that hero. You can tap each stat to see what the stat does and where your character is receiving stat boosts from. If you notice you're receiving a large amount of damage per hit, maybe it's time to invest in a boost to defense or a resistance stat!
Select XP Capsules
Arthur Curry spent his entire life training to be the best. Thankfully we're going to speed that process up a bit.
This yellow button under the hero level will only appear when you have XP Capsules to be used. Selecting it will allow you apply Capsules by type or select all to easily add XP to your hero. Matching the type of XP Capsule to the Class of your hero will grant more XP!
Gear
Each hero can equip gear for each of their 5 slots available. Equipping more than one piece of gear will grant a set bonus for 2/5, 3/5 and 5/5 gears equipped. The bonuses provided from this will vary per hero.
By selecting one of the gears at the bottom of the screen, you can manage and upgrade the gear item in that slot. Some heroes even take on a new appearance when their gear set reaches level 60! Each item will have a base effect with up to 3 Gear Chance Effects. You'll obtain the first Chance effect at Gear level 5, second at level 20, and third at level 40. Like Talents, you can roll each of these effects for a random stat boost, but this requires Reforge Tokens instead of Credits. You can obtain Tokens as a random drop from shattering excess gear items, or through special offers in the Store.
And in case you weren't listening: something something trident.
TEAMS
A strong man is strongest alone. Or was it the opposite? Either way, how your team is formed when going into battle can make all the difference. The first focus should be Class Advantage. You can view this by selecting the diamond icon before joining a fight.
Might: +20% Bonus damage to Agility Heroes. 10% less damage from Agility Heroes.
Agility: +20% Bonus damage to Meta Heroes. 10% less damage from Meta Heroes.
Meta: +20% Bonus damage to Tech Heroes. 10% less damage from Tech Heroes.
Tech: +20% Bonus damage to Might Heroes. 10% less damage from Might Heroes.
Arcane: No advantages or disadvantages against other hero classes
Some teams such as Multiverse heroes and Justice League heroes will receive bonuses from being grouped together. Keep an eye out on Passive abilities descriptions to ensure effectiveness from each team member and these bonuses. If you don't, you will meet every piranha I know.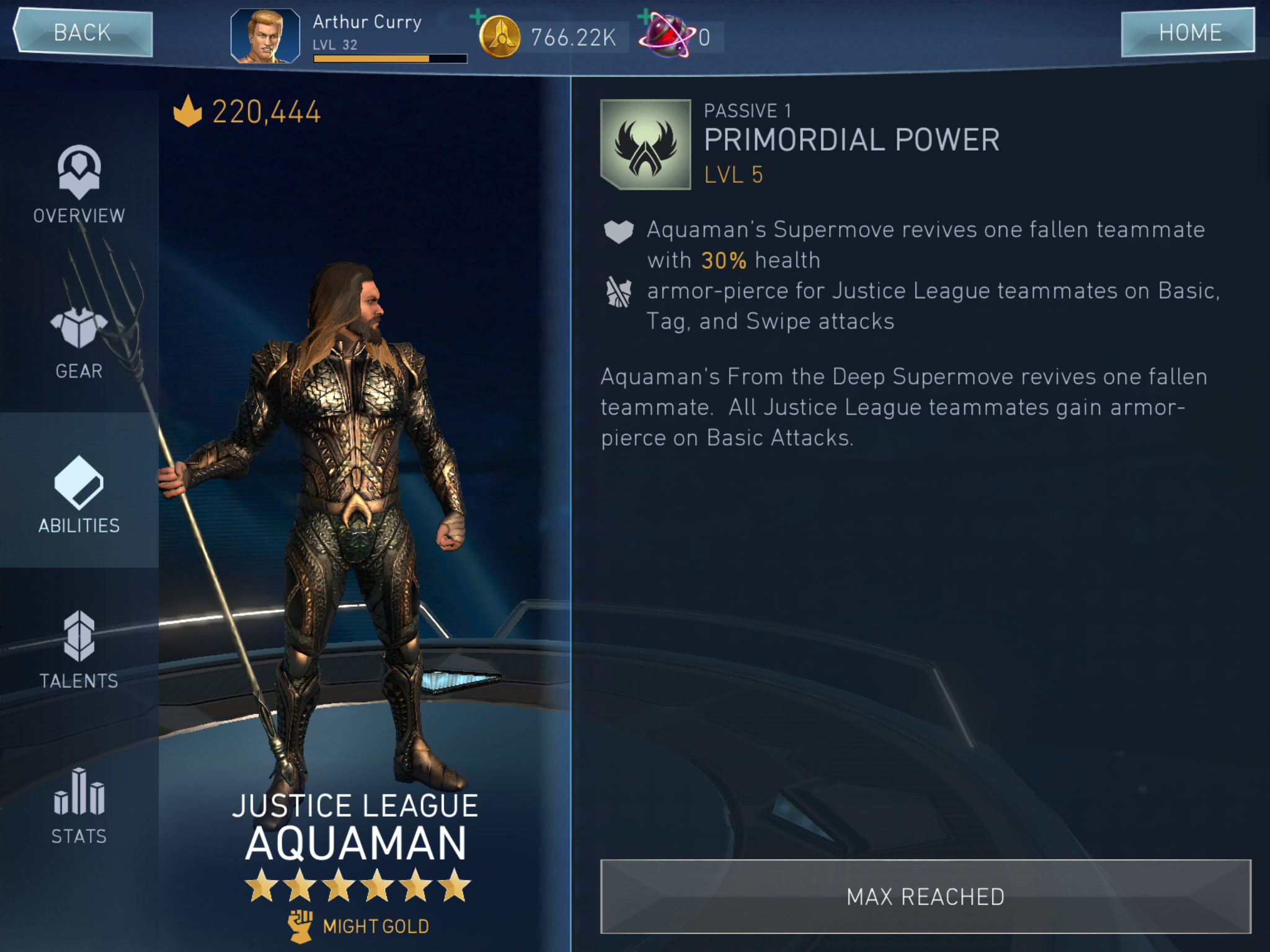 MISC
With the information in this guide you'll be worthy of taking the mantle of Protector of the Deep.
If you want to unite your world with other players, check out the official WB Games community for Injustice 2 Mobile! Talk strategies and team setups. You might even find a few who do it dressed like a bat. Like an actual bat.