Update 5.8 - Release Notes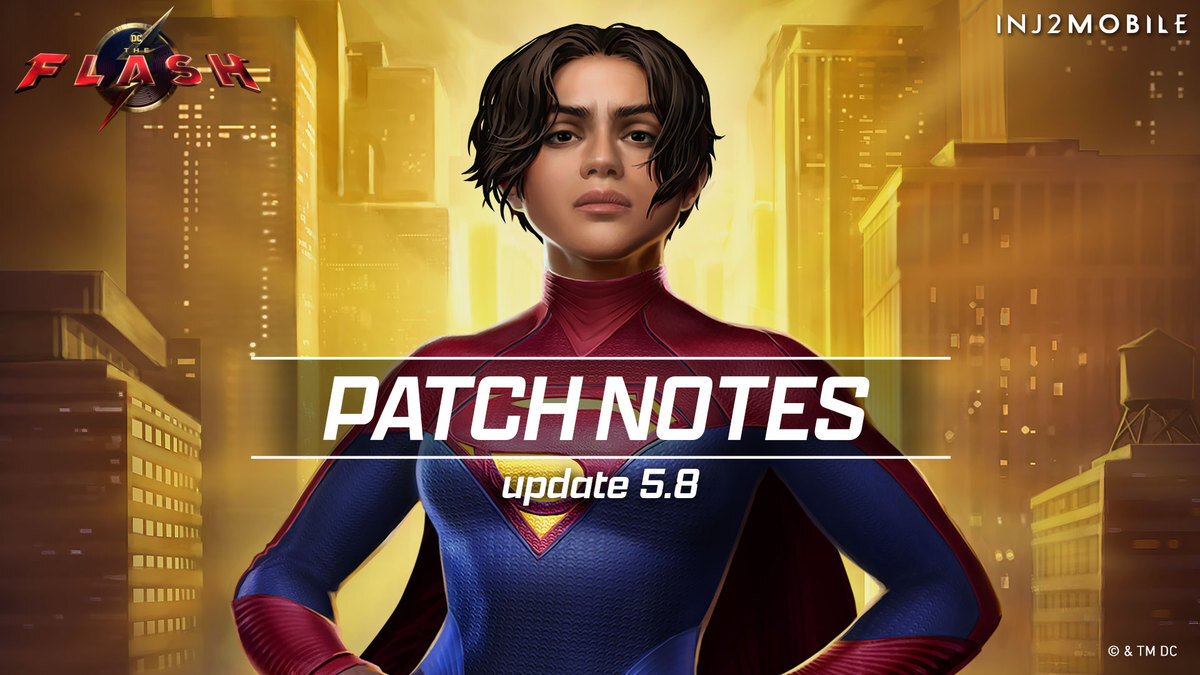 NEW HERO! GIRL OF STEEL SUPERGIRL
Worlds Collide in Injustice 2 with the newest Gold Hero! Introducing Girl of Steel Supergirl based off Sasha Calle's Supergirl from DC's new Film, The Flash. As the Last Daughter of Krypton, Supergirl's abilities are derived from the rays of the yellow sun. She is a fierce Support Hero who fuels up with Solar Energy to Heal and Protect her teammates. Get Early Access to Girl of Steel Supergirl exclusively through the new Last Daughter of Krypton Pass.
NEW LEGENDARY HERO COMING SOON!
Host Acquired…Get ready for a special Legendary Hero coming to the roster this August! Stay tuned on the official Injustice 2 Mobile social channels for more information.
QUALITY OF LIFE IMPROVEMENTS
League Raids: Introducing the new League Funding Menu! This new menu includes a League Funding Slider so you can Donate a specific amount much quicker and easier. Head to League Raids to check it out.
Also, the Orb Exchange menu was improved! Now players can exchange orbs using the new slider.
BUG FIXES AND OPTIMIZATIONS
CHARACTERS
Batman Ninja Robin – fixed the issue with the wrong Lethal Damage cap from Passive 2
Batman Ninja Gorilla Grodd – fixed the issue when Passive 2 triggered even if health has not dropped below 30%
Fury of the Gods Shazam – fixed the issue when cloned by Sub-Zero Shazam had Passive Abilities
Fury of the Gods Shazam – fixed the issue when Passive 2 buffs were working during Silence
John Constantine – fixed the issue when Attack wasn't stolen if the opponent was resurrected
John Constantine – fixed the issue when "RAPID EVOLUTION" modifier stopped changing after Constantine's Special 1
John Constantine – fixed the issue when Silence wasn't working during additional time from Martian Manhunter's Ability
Ruler of Kahndaq Black Adam – fixed the issue when Basic Attack could not reach the opponent after tag-in
Hawkman – fixed the issue when Hawkman could not save teammates with John Constantine's Hellmark using Passive 3
Hawkman – fixed the issue when Passive 3 worked on summoned heroes
Enchantress – fixed the issue with the wrong duration of Hazard from Special 3
Zatanna – fixed the issue when glowing VFX wasn't dispelled when Health reduction cap was reached

LEAGUE RAIDS
Fixed the issue when League had not received League Points for finishing hard League Raids

SOLO RAIDS
Taste of Evil – fixed the issue when Sub-boss Superman Collector of the Worlds had the possibility to use Special 2
Taste of Evil – fixed the issue when Sub-boss Dr. Fate could stun opponents with Special 2
Taste of Evil – fixed the issue when Sub-boss Dr. Fate could stun opponents by Basic Attacks on Heroic 5-7
Taste of Evil – fixed the issue when Boss' Shazam Hazards disabled Zatanna's Passive 3
Taste of Evil – fixed the issue when Boss' Dr. Fate timer wasn't refreshed after The Batman Who Laughs' Special 1
Taste of Evil – changed "POISON" modifier to "UNSTOPPABLE" for Sub-boss Ruler of Kahndaq Black Adam
Taste of Evil – fixed the issue when Sub-boss Superman Collector of the Worlds had no modifier "NULL-FIELD" on Heroic 6-7
Taste of Evil – fixed the issue when Boss Zatanna's modifier "FOCUSED" had the wrong values
Taste of Evil – fixed the issue when The Batman Who Laughs did not get The First Curse after casting Special 1 during fight with Boss John Constantine
Kingdom of Madness – fixed the issue when Boss The Batman Who Laughs' DoT wasn't visible on UI

ARTIFACTS
Twin Blade – fixed the issue when additional Damage was counted as Basic Damage
Moonblade – fixed the issue when hero affected by Constantine's Hellmark couldn't heal themselves from artifact
Fixed the issue when some of artifact' effects had wrong icons

UX/UI
Fixed the issue when hexagon notification overlapped in several interfaces
Fixed the issue when gears disappeared during scrolling gear menu
Updated design for the Story menu
Optimized animation in the Daily Rewards menu

OTHER
Fixed the issue when opponents continued to stack buffs and debuffs if they were applied before Silence
Fixed a couple of lightning issues on some maps
Fixed the issue with delay during choosing tokens for gear effects reroll
Fixed the issue when music disappeared after Supermove
Fixed the issue when ice material remained after some Supermoves
Fixed multiple issues with missing VFX and wrong heroes positions during Supermove and on the Victory screen