Update 5.6 - Release Notes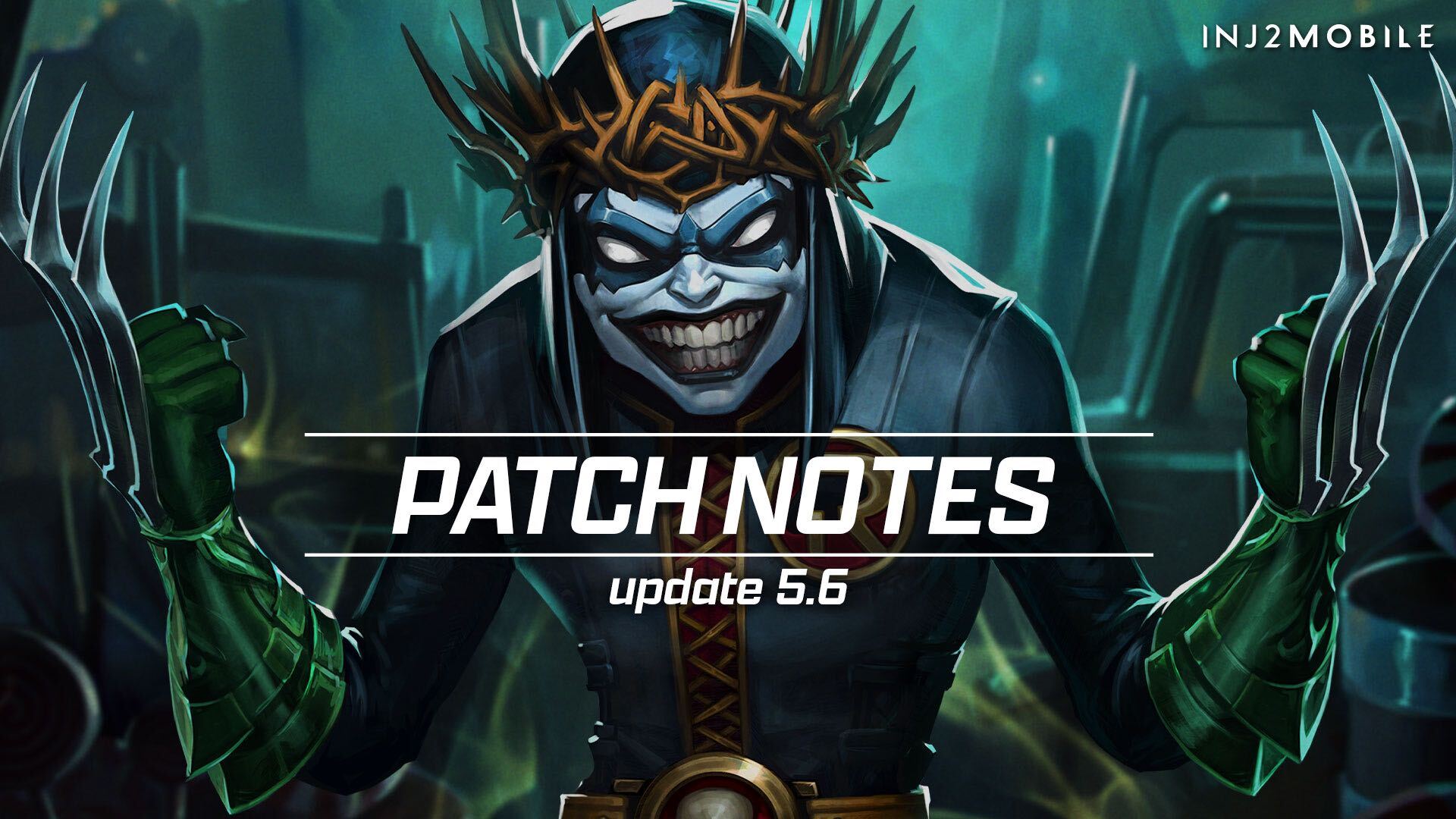 Table of contents
ROBIN KING ARRIVES FROM THE DARK MULTIVERSE

Long live the King! Complete your Metal team with the newest addition, Robin King! Based off DC's Dark Metal Comic Book series, Robin King joins the Batman Who Laughs and Batwoman the Drowned on their mission to destroy every Hero in the DC Universe. With Specials like, Manic Appetite, Bleeding Claws, and Freaky Rush, he is just as dark and twisted as he sounds. Grab the new Robin King Special Offers from the store to unlock him immediately and complete your Metal Team today!
NEW! WINTER HOLIDAY LOGIN EVENT

Don't miss the new, limited time only Winter Holiday Login Event! Participate daily to earn special rewards including Orbs, Credits, Legendary Hero Shards (Day 10!), a new, exclusive Holiday Profile Picture, and more. This special Login Calendar event will run for TWELVE (12) days, starting on December 14th.
BUG FIXES AND MORE
CHARACTERS
Classic Superman – fixed the bug with the wrong Healing
Ruler of Kahndaq Black Adam – fixed the issue when Adam can't reach the opponent after tag-in with Basic Attack
Ruler of Kahndaq Black Adam – fixed the issue when Adam couldn't lock more than one opponent's specials
Ruler of Kahndaq Black Adam – fixed issue when "Disable Special" effect was transferred to the next opponent if the first special defeated the active opponent
Swamp Thing Justice League Dark – fixed the wrong texture for Low-quality settings
Zatanna – fixed the bug with glowing VFX after Burn effect on the opponent has ended
Hawkman – fixed redundant shield VFX during second special
LEAGUE RAIDS
Updated Gorilla Grodd and Doctor Fate AI for 8-10 levels in League Raids
Damage caps are now counted from Brainiac's Phaze Health, not from the Total Health
Fixed issue when Hazards from the previous Brainiac's Phase transfer to the next one on 9 and 10 Tiers
SOLO RAIDS
Removed daily cooldown timer in Solo Raids, so you can now use 6 pips all at the same time rather than use your first 3 pips, cooldown, then your final 3 pips of the day
Ancient Judgment – fixed issue with infinite Darkseid's Supermoves
Ancient Judgment – deleted Null-Field modifier for Justice League The Flash SubBoss
Ancient Judgment – fixed issue when SubBosses Nightwing and Vixen stunned characters using Swipe and Basic Attacks instead of Specials only
Ancient Judgment – turned off Passives for Darkseid and Captain Cold SubBosses
Ancient Judgment – fixed issue when Martian Manhunter's Boss timer become broken after Raven's Specials
Ancient Judgment – a bunch of fixes in Bosses and SubBosses descriptions
On Ice! - fixed the wrong Attack value for Sub-Boss Green Arrow
ARTIFACTS
Fixed Mr. Freeze with Beta Club outputting reduced DoT damage
Fixed Harley Quinn Heartbreaker's DoT damage not doing proper crit damage with Dark Metal Cards
Crown of Kahndaq Ruler – fixed issue when wearer received Damage buff when opponent used Power Bars
Sword of Sin – fixed bug when artifact Power locked opponent instead of Power drain
Orb of Ra – fixed wrong values in texts
Kahndaq Royal Cape – fixed damage absorption values
Sword of Sin – fixed bug when Burn VFX was absent
UX/UI
Fixed timer in Regular Daily Login Calendar
Fixed bug when menu becomes unclickable after fast-scrolling "Gears" in Arena Store
UX - Updated SP readiness display for Metal team
UI - Updated UI animation in calendars. Now, reward items in Seasonal Daily Login Calendars are visible to users in all states.
League Store UI - Added touch feedback to Gear packs
OTHER
Fixed an issue with crash after the player taps on "Members" in the League menu
Fixed the issue with the game stuck when the player taps on the "Purchase" button in the Operations menu
Some objectives for Injustice Pass weren't translated into some languages